Acer has launched their new Acer Nitro 5 gaming laptop powered by NVIDIA RTX 3060 graphics and an Intel Core i5-10300H 10th Gen processor for Rs. 89,990 in India. This isn't the first gaming laptop to feature an RTX 30-series GPU but it certainly happens to be the first with an RTX 3060 GPU. ASUS already has RTX 3080 and 3070 based gaming laptops and MSI seems to be gearing up to have their units in the Indian market as well. The new Acer Nitro 5 also comes with 8GB RAM and a 15.6-inch 144 Hz IPS panel with a claimed response time of 3ms. The laptop weighs 2.3 kgs and supposedly provides up to 10 hours of battery life for normal use. Acer is selling the new RTX 3060 powered Nitro 5 gaming laptop on Amazon and their own Acer store for Rs. 89,990. And there's also another unit with twice the RAM (16GB) for Rs 93,990 which is more appealing for gaming. The funny bit here is that this might be the only way for anyone to get an RTX 3060 in India.
Speaking on this occasion of the launch, Sudhir Goel, Chief Business Officer, Acer India said, "With the new Nitro 5 gaming laptop using the NVIDIA GeForce RTX 3060 graphics card, we are entering a new era of high-performance gaming. Our Nitro 5 gaming laptop range has been a huge success in the Indian market and provides the perfect stepping stone to competitive eSports. The close collaboration between Acer and NVIDIA has resulted in a laptop which has the performance, design, cooling and portability which is unmatched at this price point and we are excited to bring this to the Indian market."
Vishal Dhupar, Managing Director, NVIDIA South Asia said, "A new era of laptops begins today featuring the NVIDIA Ampere architecture, with the launch of the Acer Nitro 5. This next-gen laptop will increase energy efficiency by up to 2x, accelerate performance dramatically, and introduce third-generation Max-Q technologies for thin and lightweight designs. Along with this, the new series laptop promises to deliver stunning ray-traced gaming experiences in top game titles. We are confident that the new Nitro 5 gaming laptop will offer an incredible gaming experience and enable content creators to generate unbelievable work using hundreds of GPU-accelerated apps."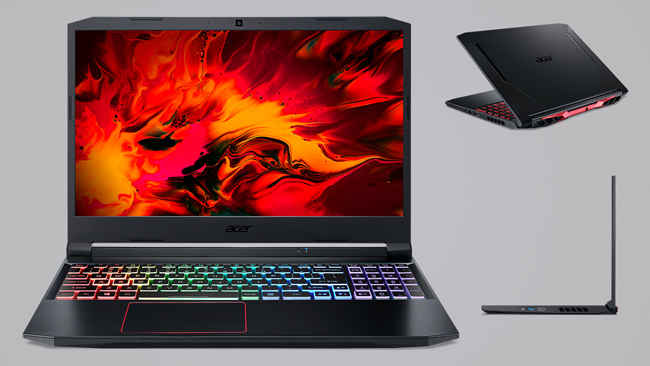 Cheaper than a desktop gaming PC?
Not quite. If you happen to be part of the Indian PC community then you must be well-aware of the effects of taxation on PC components in India and how they're sold at higher rates than what consumers in the EU or US markets have to pay. While this has improved over the years, we're still subject to higher prices at the end of a day. And given the ongoing global chip shortage, most desktop graphics cards are currently selling at about twice their advertised MRP. There are barely any cards arriving in the country because of the shortage, and local distributors have also been arm-twisting vendors to clear out unsold inventory if they wish to source more graphics cards. As a result, the average cost of an RTX 3060 is around 52K as opposed to its launch price of 28K
So if you were to build a desktop PC that's similarly capable, then you'll have to spend near about the same amount as the laptop. This was never the case until now. Let's say if you paired an Intel Core i3-10100 with an H410 board, 8 GB of RAM, 550W power supply, 1TB hard drive, 256GB SSD, the cheapest 144 Hz monitor (not IPS) and an RTX 3060, you'll end up spending about 94-95K. This price is provided if you do get an RTX 3060 to buy since stocks are abysmal. You'll most probably end up paying just about the same. The above components provide just about the same performance as the Acer Nitro 5 gaming laptop.
Pitting the desktop against the laptop isn't exactly an apples-to-apples comparison. The TDP and TGP of the CPU and GPU are quite different across both form factors and the desktop does end up giving a little extra performance but the gaming laptop is more appealing considering that you get portability.
Acer Nitro 5 RTX 3060 Gaming Laptop Price
Acer is selling the new RTX 3060 powered Nitro 5 gaming laptop on Amazon and their own Acer store for Rs. 89,990. And there's also another unit with twice the RAM (16GB) for Rs 93,990. The units went on sale today.