Shenzhen Dragon Brother Industrial have cloned the Apple iPad three months before its launch. The P88 has USB ports, it can multitask and has a widescreen
Apple learnt from its last mistake (read iPhone-Cisco fiasco) and refrained itself from naming their device the obvious iTablet, (though this compelled them to give it a name which will be a subject of joke for weeks to come). But it seems that they were not careful enough to check for existing patented designs. In what may be the first case of a manufacturer cloning a device which was not even released, Shenzhen Dragon Brother Industrial cloned the Apple iPad three months before its launch.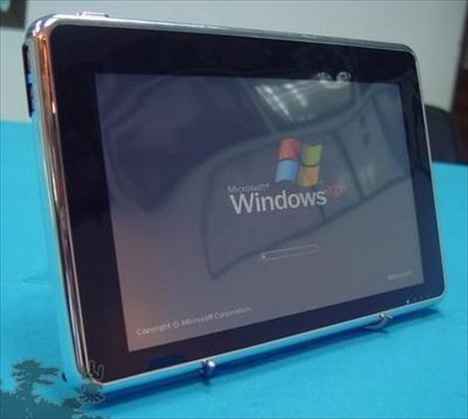 They named their product 'P88' which is probably not as amusing as iPad. But that's not where the differences end, the P88 has three USB ports in their tablet which means you don't have to worry about docks and other hardware items. It also addresses the biggest complaint against the iPad - it has full support for multi-tasking. The device is indeed capable of multi-tasking, the very area in which Apple failed miserably. It even has a faster processor and runs on the Intel Atom N270 1.6 Ghz CPU. Unlike the iPad, its RAM is not a big secret and amounts to 1GB (which, incredibly, is expandable to 2GB). The P88 also has a bigger LED-backlit touch screen measuring 10.2 inches sporting a 1024x600 resolution. It also supports Wi-Fi, and much like the iPad comes with optional 3G. Boosting its connectivity, it has a 3-in-1 SD, MS and MMC card reader. It also has ports for mic jack, headphone jack, network cable and external display interface. The tablet weighs two and a quarter pounds with its dimensions of 11x7x0.87 inches. Although images show it running Windows 7, it runs the traditional Windows XP. It also has a much larger disk drive with a capacity of 160GB. This device is unlikely to be of any major concern to Cupertino. Though it addresses most of the problems associated with the iPad, it has a disastrous battery life of just about 90 minutes. And even if it had a longer battery life, people would still flock to buy the Apple iPad: it has a very slick UI and the extensive App. Store and some people love to see the little Apple logo on their devices.

The interesting part of this story is that Shenzhen Dragon Brother Industrial has said that "It has not ruled out a lawsuit against Apple." The company is based in a southern Chinese city and is notorious for producing knock-off phones which are called 'Shanzhai' or 'Bandit' Phones. It is also known to manufacture counterfeit iPhones and other popular handsets. The company argues that they were the first to release the device and Apple has 'largely' borrowed their design for the P88. An Apple spokeswoman declined to comment on this. It will be interesting to see how this shapes up and whether this will also turn into a legal battle.
Apparently, Apple didn't do their homework properly and Japanese Electronic Giant Fujitsu has come forward with the claim that it owns the rights to the name iPad. This may raise another possible legal battle for Apple which is already fighting its case of Patent infringements of Nokia.
These two issues may bruise the almighty Apple, though that looks quite unlikely to happen.