Sony has released its first 'netbook' (no, you were not supposed to call the Vaio P pocket series by that name) in the Indian market, the Vaio W series.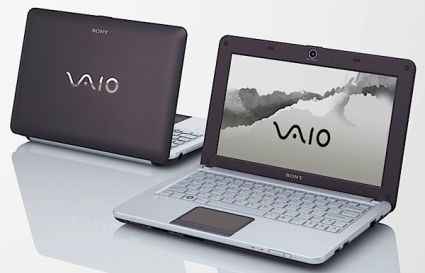 The model features an isolated keyboard with springy and responsive keys making it comfortable and easy to use. Its carefully designed touchpad and mouse keys make the PC functional and mouse movements easy to control. The Vaio W model comes in three vibrant colors- pink, white and brown. A more subtle shade of the exterior hue finishes the inside of the PC while the touchpad is lined with a splash of brightness.
The Vaio W also features a 10.1-inch LED-backlit display with a native resolution of 1366x768 pixels –a widescreen format that lets you view full-width web pages without side-scrolling.
Fitted with a 160GB hard drive and 1GB of RAM, Sony has thankfully gone with Windows XP as the operating system of choice, eschewing Vista.
With the Vaio W, fun comes standard. Built into every model is Vaio Multimedia Suite, a collection of video and photo editing tools that make it easy to create your own high-quality home movies, slideshows and more, no matter where you are. Of course the Vaio W features built-in Wi-Fi for a fast connection to internet hot spots and your home network. But it also keeps you plugged into your favorite media. With Vaio Media Plus, you can stream photos, videos and music from the Vaio W and enjoy it all through your PS3 on your compatible TV.
Easily transfer data, such as photos from your digital camera or music from an MP3 player, to and from the PC with the unit's two convenient USB ports. Incorporated Bluetooth technology enables peripherals such as a wireless mouse to be utilised without tying up the unit's ports. A built-in Webcam and microphone let you video chat with family, friends and colleagues.
The Vaio W Series mini notebook will retail for Rs. 29,990 at all Sony Center stores and retail partners across the country.