The S-Pen on the Notebook 9 Pro is not an added accessory, but is neatly tucked away at the bottom of the laptop.
At Computex yesterday, Samsung announced its new Notebook 9 Pro range of laptops, which brings major design changes to the company's premium line of laptops. Unlike last year's models, the new Notebook 9 Pro range features a 360-degree hinge similar to Lenovo's Yoga range (Lenovo Yoga 900 Review). Along with the new hinge, both laptops will also include Samsung's S-Pen, which is not an additional accessory, but slides out from the dedicated bottom slot of the laptop.
The bundled S-Pen works just like the S-Pen we have seen on Samsung's Note range of smartphones (Samsung Galaxy Note 5 Review). Hence, the laptop includes Samsung's Air command software for drawing and editing stuff. Besides that, the S-Pen is also compatible with Windows Ink and thus it can be used on a variety of Windows 10 devices which support Windows Ink. In terms of specifications, the S-Pen supports 4,000 levels of pressure and can detect tilt shading, just like the new Surface Pen.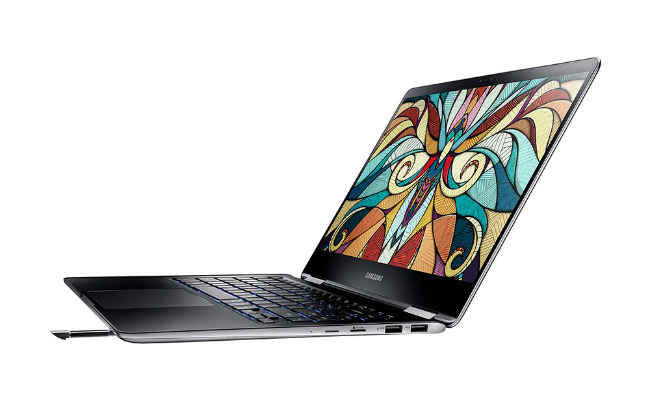 The new laptop range will be available in two screen sizes - 13.3-inches and 15.6-inches. Both laptop will be powered by the latest 7th gen Intel Core i7 processors. Both models will be available with up to 256GB SSD based storage. As for the RAM, the smaller 13.3-inch model will be available with 8GB of RAM and the larger model will have 16GB of RAM. The 15.6-inch model will also ship with AMD's Radeon 450 GPU.
As for the ports, both laptops carry two regular USB ports, one HDMI, has a microSD card slot and use a USB Type-C for charging. Samsung has also included a Windows Hello camera in the front for added security and allows unlocking using facial recognition. Samsung has not yet announced any pricing or availability for the laptops, but we assume they should hit markets later this year.