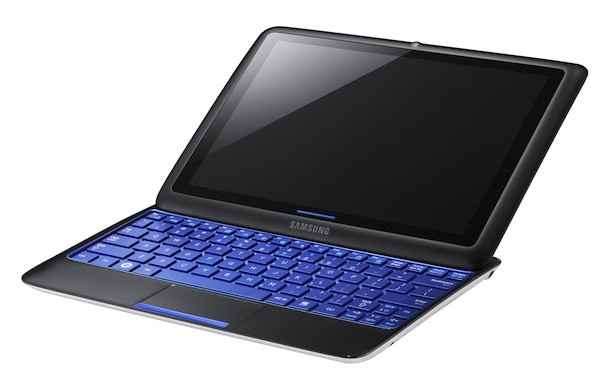 This CES sure seems to be uncovering a whole bunch of interesting form factors, with the Asus Slider and Transformer as well as Lenovo U1 Hybrid (LePad) unveiled yesterday, and today, the Samsung PC 7, which is yet another slider tablet or netbook, depending on the way you look at it.
Thought to be the Samsung Gloria we heard about a while back – a Windows 7 QWERTY tablet – the Samsung Sliding PC 7 Series slider series is powered by the new Intel Oak Trail processor, the Intel Atom Z670 1.66GHz. It weighs just around 1 kilogram, and has a 10.1-inch screen with 340 nits of brightness and a 1366x768 pixel resolution. Other specifications include 32GB/64GB SSD options for storage, 2GB of DDR3 RAM, USB and HDMI ports, 4-in-1 card reader, ambient light sensor, and an integrated 1.3 megapixel webcam, apart from of course Windows 7 Home Premium.
[RELATED_ARTICLE]The Samsung PC 7 will apparently be able to boot up in under 20 seconds, and a WiMAX model will also be available. Its 6-cell battery will supposedly give it a battery live of 9 hours on a single charge.
You might be wondering how just how an Intel Oak Trail Atom CPU, based on the System-on-Chip architecture, manage to run Windows 7? Well, apparently Oak Trail was designed to be nearly OS agnostic, since according to Intel the Oak Trail CPU will be able to deliver a "50% reduction in average power consumption with full HD-video playback and targeting software choice including MeeGo, Windows 7 and Google operating systems".