If you are searching for a new Gaming Laptop for yourself, your search ends right here. MSI has announced their latest gaming laptop GX740 which can put to shame many of the latest gaming PCs, which is now finally available in the market.
The MSI GX740 has a 17-inch wide-screen TFT-LCD display with a maximum of 1680x1050 pixels resolution support. Equipped with the powerful Intel Quad-core 1.6 GHz Core-i7 720QM processor and 4GB RAM of DDR3 hosted on a Intel HM55 chipset board, it comes loaded with 64-bit Microsoft Windows 7's Home Premium SKU. 500GB is quite moderate storage capacity for a gaming laptop of this range, as it includes a multi-layer Blu-Ray drive as optical media device.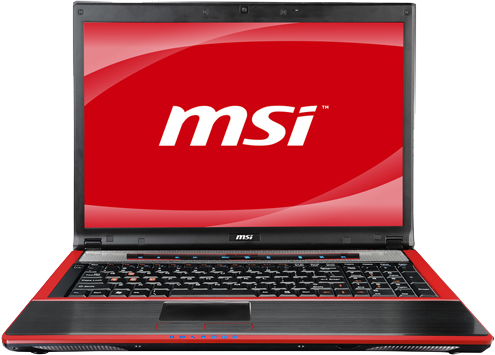 On the gaming side - the graphics are powered by the ATI Mobility Radeon HD5870 GPU with 1GB GDDR5 video memory. Apart from this, the MSI GX740 includes 5 channel SRS audio output with built-in sub woofer, VGA and HDMI output for audile & visile pleasure. It has WiFi 802.11n support, Gigabit LAN and optional Bluetooth for connectivity reasons. Accessories, such as 2MP webcam, a multi-format ExpressCard slot etc. are also in there; though we would have been very pleased to have the grace of USB 3.0 and eSATA support on this laptop, but alas!
A 6-cell (optional 9-cell) battery empowers the laptop, as the entire thing weighs about 3.2Kg. The laptop has been announced at a shipping price of $1,399.99 - Indian customers, expect the price to be in Rs. 70,000 range.