CES 2022 is finally here and MSI just revealed a barrage of brand new gaming and creator laptops. The laptop maker also certified several of its gaming devices powered by an Intel 12th Gen Core i7 processor and an Nvidia RTX 3070 GPU or above to be Meta Verse ready. Furthermore, these laptops will become available for purchase in India following their global launch.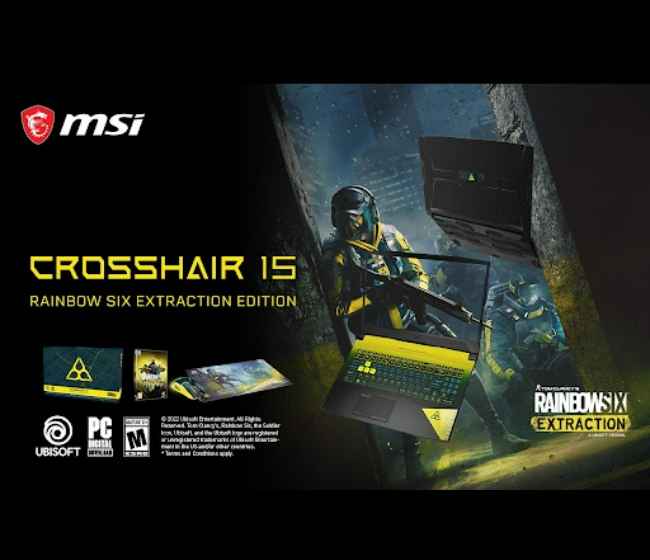 The new gaming and creator laptops come equipped with an Intel 12th Gen H series processor featuring "Hybrid" cores that intelligently distribute the workload between Performance-cores (P-cores) and Efficiency-cores (E-cores). MSI has paired the powerful CPUs with equally capable GPUs from Nvidia. Lining up to battle from team green are GeForce RTX GPUs featuring Ampere architecture with 2nd Gen RT cores for Ray Tracing and 3rd Gen Tensor Cores for DLSS and AI.
As per claims, the Nvidia RTX 3080Ti is more powerful than the TITAN Desktop GPU. Meanwhile, the brand new RTX 3070Ti delivers 70% more performance than RTX 2070 laptop GPU while gaming. Meanwhile Intel 12th Gen CPUs bring up to 45% performance improvement as well. The brand new components also get upgraded cooling thanks to Phase Change liquid metal pad employed by the MSI.
MSI Creator laptops also saw a massive improvement featuring display panels with up to 17-inches, Calman verified True Pixel display, Vapor chamber cooling, and DTS tuned surround sound speaker systems.
MSI Gaming Laptops 2022
GS77/66 Stealth
Starting at the top, MSI revealed the GS77/66 Stealth laptops geared towards gaming and business use and feature a core black colour with a Zinc alloy hinge. In terms of specs, the laptop series features up to an Intel 12th Gen Core i9-12900H CPU, DDR5 RAM with 2 slots supporting up to 64GB of memory. The laptop also uses an Nvidia RTX 3080Ti GPU with 16GB GDDR6 VRAM for serious gaming performance.
The laptop also features two options for display sizes - 17.3 and 15.6-inches. Both display size options are further available in three distinct size options - 4k resolution 120Hz refresh rate, 1440p resolution 240Hz refresh rate, and 1080p resolution 360Hz refresh rate.
The GS77/66 laptop series also features six speakers with crisp treble and powerful bass with webcam lock switch and up to 100W PD charging.
GE 76/66 Raider
Retaining the Aurora lightning, the Raider GE series makes a triumphant return this year featuring brand new components. The laptop series now packs in Intel 12th Gen Core i9 CPU, DDR4 memory featuring 2 slots with support for up to 64GB RAM. MSI also claims that the Nvidia RTX 3080 Ti powering the Raider GE76/66 series can reach up to 220W TGP thanks to MSI Overboost and Phase Change liquid metal pad. The display options for the GE 76/66 laptop series are also similar to the GS77/66 series in terms of display resolution, refresh rate, and size.
Vector GP76/66
The Vector GP series was born with a new concept keeping in mind the requirements of gaming, engineering, and scientific competitions. Furthermore, with Cooler Boost 5 tech, the RTX 3080's performance can reach up to 210W via MSI Overboost. The laptop also features up to an Intel 12th Gen Core i9 CPU, DDR4 RAM support with 2 slots featuring up to 64GB memory. The laptop series comes with two display options, a 17.3 and a 15.6-inch display. The 17-inch panel features a maximum of 1440p resolution and a 240Hz refresh rate with 100% DCI-P3. Meanwhile, the 15.6-inch display features 1440p resolution and 165Hz refresh rate and another 1080p panel with a 240Hz refresh rate.
Crosshair GL Series
The series' highlights include futuristic design and exclusive Sci-fi elements inspired by the "feel-good" experience of gaming. The laptop series comes in three major variants - one with a 15-inch display, another with a 17-inch display, and an exclusive Rainbow Six Extraction Edition 15-inch model. The Crosshair GL series also features Intel 12th Gen Core i9 CPU, DDR4 memory support with up to 64GB RAM. The series is powered by an Nvidia RTX 3080 GPU with 8GB GDDR6 VRAM.
Pulse GL76/66
The MSI Pulse series keeps the original design by Marteen Verhoeven featuring a titanium power armour design with Cooler Boost 5 technology enabling 15% more airflow and around 33% reduction in wall thickness of the laptop. The series uses an Intel 12th Gen Core i9 CPU in pairing with an Nvidia RTX 3070 GPU with 8GB GDDR6 VRAM. The laptop also comes with two display options - a 17.3-inch 1080p display with a 360Hz refresh rate and a 15.6-inch QHD display with a 165Hz refresh rate and 100% DCI-P3 colour space coverage.
Other gaming laptops that MSI revealed include the Sword 17/15 series and the Katana GF76/66. Lastly, MSI also revealed the Creator Z17, Z16P, and Z16 laptops focused on creativity and productivity.
Also Read: MSI announces memory overclocking competition for Intel B560 motherboards