Micro Star International (MSI) has come out with the a range of laptops for 2010. It consists of 14 new models across various categories with prices starting at Rs 19,000 to over a lac. MSI is the first brand to announce the launch of Core-family based notebooks in India. Their gaming series - MSI GT640 & GT740, starting at Rs. 88,000/- are equipped with Core i7 processors and discrete graphics from NVIDIA – the Geforce GTS 250 M along with other bells & whistles that come at this price point. This range is clearly aimed at the enthusiast market and should finally give users some options other than Alienware.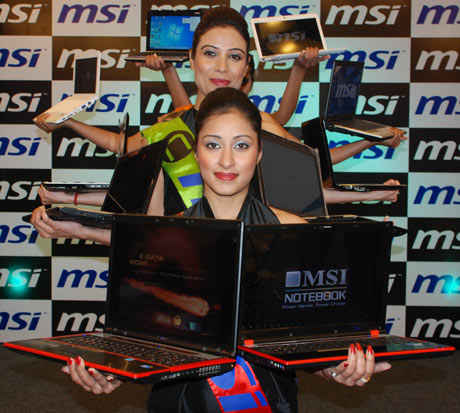 The EX series which they peg to be in the Enertaintment category is powered by Intel Core Duo processor and ATI Radeon HD4330 graphics solution. This feels somewhat of a dissapointment as a Core i3 processor was in order here especially when they are priced at Rs. 40,000/- and up which is very close to the Classic series powered by the Core i5 processors. The EX series have LED backlit displays resulting in improved power management. Both the EX and Classic series are light wieght making carrying them around less of a task.
The most popular category of netbooks and ultra light weight notebooks has been well covered by MSI. The X–slim series of ultra-slim line noteooks are based on the CULV platform which is basically a power sipping platform lowering power consumption & increasing battery life significantly. A point worth noting here is the X-slim is less than 1-inch at its thickest point, putting it in the company of likes of Mac Book Air. The MSI Wind U210 and U230 plug in the netbook category powered by dual-core Athlon X2 processor. They have 12-inch screens, HDMI output & support for HD media playback which finally makes netbooks viable for visual entertaintment.
MSI has tied up with consumer electronic chains such as Croma, Reliance Digital & E Zone which should make MSI products easily available which should be hitting the shelves by mid-February.