A news article describing the specifications of a new laptop yet to released by MSI, the MSI GE700, which features Intel Core i5 and a Radeon HD 5730, serving as a mobile gaming rig.
MSI has dropped a gaming rig in the form of the MSI GE700 laptop. Boasting a configuration that includes an Intel Core i5 processor and the ATI Radeon HD 5730 video card with 1GB RAM, the MSI GE700 is aimed at the gamer on the go.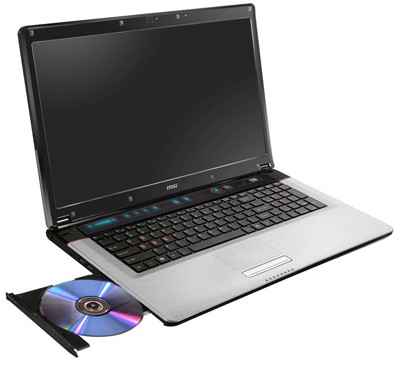 MSI GE700 - looking good
The screen size of the MSI GE700 is 17.3-inch with a native resolution of 1920 x 1080, plenty of real-estate for work, play, and movies. The HD 5370 is a GPU that offers 1GB DDR3 RAM apart from DX11 graphics, and is fitted on a motherboard that offers GPU Boost technology at the push of a button. The laptop offers room for 9-cell battery for backup power and two 500 GB hard drives for data backup adding up to 1TB storage capacity. The MSI GE700 also includes options for configuring the hard drive in three options, namely: 250GB, 320GB and 500GB. The 3.1kg MSI GE700 ships with a 720p webcam to accommodate your live-streaming needs. It also features: one card reader, HDMI port, D-sub, four USB 2.0 ports, an e-SATA port, microphone/headphone ports and RJ-45/RJ11. The connectivity features include an integrated 802.11a/b/g/n WiFi and Bluetooth. However, the release date and retail price details haven't been revealed yet.