You can use your laptop anywhere in your home. But what you gain in mobility, you often sacrifice in comfort. To address this pain point, Logitech has introduced the Comfort Lapdesk for notebooks, which provides a stable base and helps protect against laptop heat whether you're working from the comfort of your couch, relaxing on your bed or reclining on the living-room floor.
"While other lapdesks promise improved comfort, they often fall short because of poor design and low-quality materials," said Denis Pavillard, Logitech's vice president of product marketing for keyboards and desktops. "The new Logitech Lapdesk has a thoughtful design that will help make your laptop experience more comfortable, wherever you use your computer."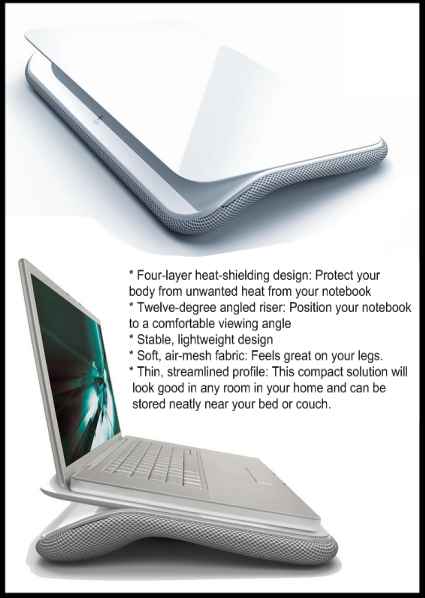 Logitech research revealed that nearly 60 per cent of people who use a laptop at home use it on the couch so they can be with their families while browsing the Web, emailing or chatting. In addition, the research showed that 36 per cent use a laptop on the bed and 16 per cent use it while sitting or lying on the floor. However, nearly 50 per cent of those people report concerns about laptop heat and 41 per cent raise concerns about posture. Some people use a pillow or book in an attempt to provide a barrier to the heat emitted from the laptop, but those solutions often end up trapping heat, making it even hotter.
"Anyone who has the habit of placing the laptop on his lap is familiar with the discomfort caused due to the heat generated by the laptop," said Mr. Subrotah Biswas, Country Manager, India and SAARC, Logitech. "However the laptop effects saga does not end here. A study by State University of New York researchers says heat generated from laptops can significantly raise the risk of infertility in men who balance the machines on their lap. Though uncommon, laptop heat from prolonged use of computers can also cause skin burns. Logitech's Comfort Lapdesk aims to offer a solution to these problems.
The Comfort Lapdesk features a four-layer, heat-shielding design. The bottom-layer's fabric and an air-flow chamber between the base and top combine to further minimise heat. Plus, instead of the whole laptop lying flat against the body, the arched base makes contact with the legs in just four places, improving air flow.
To provide a stable foundation for comfortable laptop use, the cushioned base allows people to relax their legs instead of locking the knees together to support the computer. In addition, a non-slip glossy finish on the top of the lapdesk helps prevent the computer from sliding around. And a 12-degree angled riser positions the notebook to a height that supports neck and leg comfort (when used in a seated position).
When you're done using the computer, the lapdesk's thin, streamlined profile makes it easy to slide under a couch or bed, or it can stand upright for storage next to the sofa.
The Logitech Comfort Lapdesk is available with a three-year warranty for Rs 2,995.