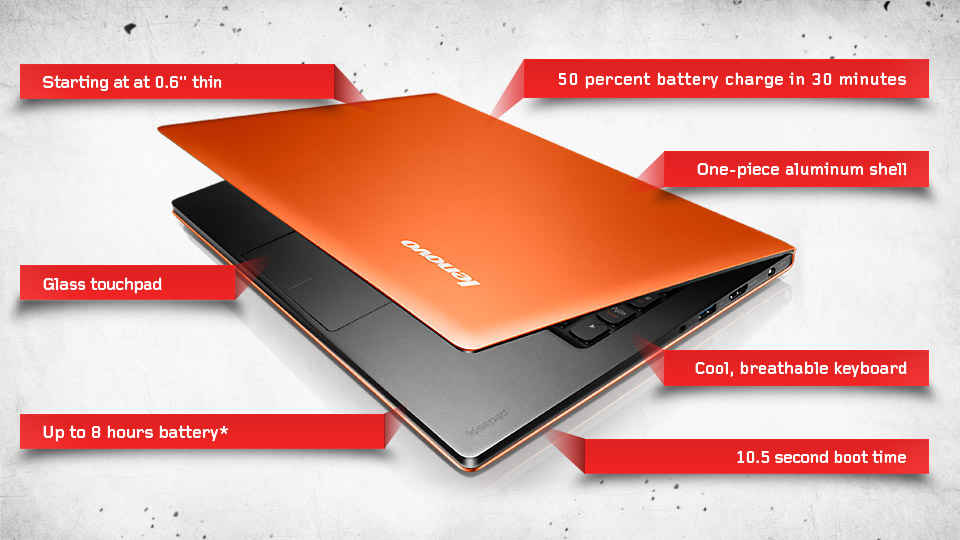 Lenovo last week showed off its first Ultrabook device at the IFA event in Germany. The laptop named IdeaPad U300s features a 13.3-inch display and is just 0.59-inches thick. With a weight of 2.2 pounds, the device is said to be lighter than Apple's MacBook Air, which is 0.68 inches thick and weighs 2.96 pounds.
[RELATED_ARTICLE]
The U300s Ultrabook comes with an Intel Core i7 processor with Intel Turbo Boost Technology 2.0. The Enhanced Experience 2.0 RapidDrive SSD technology helps the device boot up in 10 seconds. The U300s comes with a 13.3-inch ultra-slim 16:9 widescreen HD display, 4GB DDR3 memory and up to 256GB of SSD storage. The device has an eight hours of battery life during active use and 30 hours on standby mode. The body of U300s Ultrabook is made from a single-piece aluminum shell and is available in Graphite Grey and Clementine Orange colours.
The Lenovo Ultrabook U300s is priced at $1,200 and is scheduled to hit the market later next month. The device will be available worldwide by the month of November.
To remind you, the Ultrabook is the new segment of laptops which are slimmer and lighter than the conventional laptops. The Ultrabook series is promoted by Intel, which is reportedly focussing on this new segment of laptops.
It is believed that Intel is making all out endeavours to revive interest in laptops in view of increasing popularity of tablets, especially Apple's iPads. The UK-based chip designer ARM Holdings is also giving Intel giving a good competition with its strong hold in the tablet market.
Intel recently announced a $300 million fund to assist the companies across the world to develop hardware and software technologies for its ultra-thin laptops. Intel hopes the new device category will help gain nearly 40 percent of the laptop market by 2012 end.