Lenovo has added another product to its ThinkPad portfolio.
Lenovo has added another product to its ThinkPad portfolio. Christened the ThinkPad Twist, the device is a laptop-tablet hybrid, priced at Rs. 71,000 inclusive of taxes.
The reason the ThinkPad is called the 'Twist' is because the display can be rotated at 180 degrees and can be folded on the keyboard to give users the utility of a tablet. The Twist also runs on Windows 8, which is designed as a tablet, as well as a desktop OS. The Twist is available in mocha black colour, is a mere 20mm thick and weighs a mere 1.60kgs.
In terms of its specifications, the Twist comes with a choice of 3rd Generation Intel Core i3-3217U (1.80GHz 1600MHz 3MB) or i5-3317U (1.70GHz 1600MHz 3MB) processor, a 500GB HDD, and 4GB of RAM. It has a 12.5-inch Full HD IPS display. The display also boasts of multi-touch capabilities. It also has Gorilla Glass, is anti-scratch and anti-smudge which makes sense since you will be touching the display quite a bit. The laptop also supports Dolby Home Theatre V4. Along with a full sized keyboard, the Twist also comes with a TrackPoint and touchpad. Other features include 2-seconds resume from sleep and 30-days standby.
The ThinkPad Twist also comes with a bunch of preloaded apps such as Fruit Ninja, Evernote, AccuWeather, Skype, Amazon Kindle and more. For more details, visit Lenovo's ThinkPad Twist page.
This isn't the first time that we have seen a hybrid that boasts of Windows 8 and the ability to work as a tablet as well as a laptop. In the past we have seen the Lenovo IdeaPad Yoga 13 and the Sony Vaio Duo 11 boast of similar features while bringing some unique features to the tablet.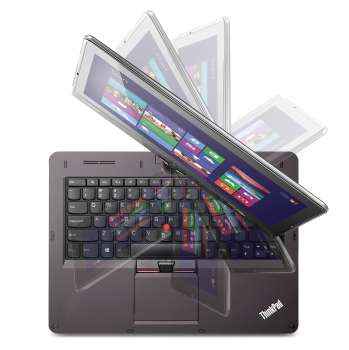 Lenovo ThinkPad Twist