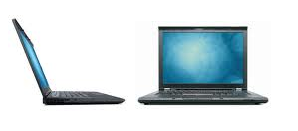 The Lenovo ThinkPad T410, the latest addition to the T-series, is said to be one of the best notebooks for business in recent times. Not only does it perform well, it also scores with its superb battery life. It is thinner and more attractive than its predecessors and is priced at $1, 269 (Rs. 58, 971); powered by Nvidia graphics.
It has a good, solid design and is fairly easy to carry. The keyboard, with its strong tactile feedback has a good design, like all other ThinkPads and the accurate touchpad supports multi-touch gestures like pinch in/out to zoom. The 14.1-inch LED backlit screen serves well while watching movies and playing games and has a webcam on top of it. It is shipped with either integrated Intel GMA HD Graphics or the Nvidia NVS 3100M (256MB DDR3) and both perform remarkably. While using the Wi-Fi, the ThinkPad's standard 6-cell battery makes it run for nearly 4 hours (With integrated graphics).
The ThinkPad comes with a lot of different configurations: the processor can be either 2.4GHz Intel Core i5-520M, 2.53GHz Intel Core i5-540M, or 2.66GHz Intel Core i7-620M. We have already specified the GPU variations and when it comes to storage, if you are not going for the 128GB SSD, then hard drives with sizes 250GB, 320GB or 500GB are available, in either 5400rpm or 7200rmp speed. Putting in $50 more can fetch you another 3 cells for the battery. There is also a variety of options for the LAN cards.
It comes with a one year warranty that can be upgraded to three/four years. The ThinkPad T410 not only keeps up with the high level, it also proves to be even better than its predecessor, T400, by offering more enhancements.