Lenovo makes the U1 Hybrid official, and calls the slate tablet portion the LePad, but they'll only be available in China if you want to get your hands on them.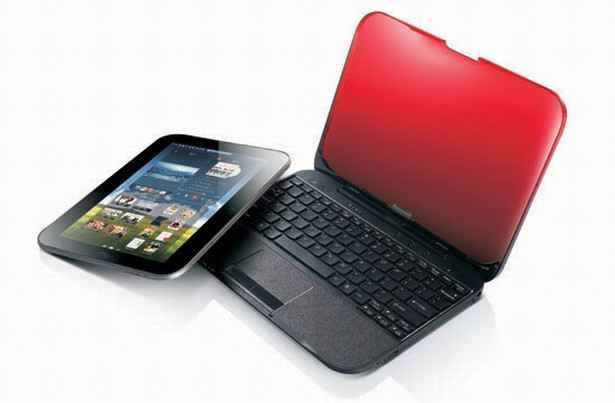 Las Vegas-–Saying that Lenovo has just caught the tablet fever would be inaccurate, since it was exactly a year ago, at the last CES convention, that the company launched the U1 Hybrid, a slate tablet that docked to form a laptop. At the time, both the hardware and software couldn't be earlier in their development stage (Google's Android wasn't even available yet). Fast forward to a year later, at CES 2011, Lenovo is ready to make the U1 Hybrid official; only this time, it has a name for the slate portion, calling it the LePad. The LePad is available separately for approximately $520, or it can be bought with the dock (or as the U1 Hybrid) for about $1,300. Either way, though, you can only get them in China.
What makes the U1 Hybrid unique then and even now is that it's a laptop with two processors, each running a different operating system. As a laptop, the U1 Hybrid runs on a full blown version of Windows 7 and an Intel Consumer Ultra Low Voltage processor—the Core i5-540um (1.2GHz). The laptop itself is equipped with 2GB of DDR3 memory and a 320GB (5400rpm) hard drive, and it has access to a number of laptop features, including an HDMI port, one USB 2.0 port, 802.11n WiFi, Bluetooth, and a 2 Megapixel camera.
[RELATED_ARTICLE]The 10-inch widescreen boasts a 1,280-by-800 resolution, but what makes this one different from all the other laptops is that it's removable: Undock the screen from its shell and you have the slate portion. The LePad is a separate entity once it's detached from its host. It runs on an ARM SnapDragon 1.3GHz CPU, accompanied by 1GB of RAM. It's like moving to a different set of body parts, consisting of 16GB (or 32GB) of flash storage and built-in 3G (WCDMA or Verizon's EVDO). The LePad shares the WiFi and Bluetooth connection with its host, as well as the webcam and battery.
Even the operating system is different, since an ARM CPU can't run Windows 7. Lenovo even has a name for it, dubbing it the LeOS, which is simply Google's Android 2.2 (Froyo). The LePad's user interface is made up of four viewing panes, which consists of a number of apps pertaining to office productivity, web browsing, social networking, and media consumption. Lenovo also claims that the LePad is optimized for multitouch and Flash 10.1. Here's another neat feature: If you undock the unit while surfing the Web in Windows 7, the LePad will automatically pick up where you left off by launching the same Web page in the Android OS, via a web browser app. It's a very seamless switch and limited to web browsing the last time we checked. At any time, if you get frustrated with finger surfing, you can dock it back and have full access to the keyboard, touchpad, and mouse buttons. It's the best of both worlds.
Lenovo did not comment on when the U1 Hybrid, with the LePad, will be available in the United States. In China, both products will begin shipping by March 2011.

Copyright © 2010 Ziff Davis Publishing Holdings Inc.