Lenovo is hosting its Accelerate conference in Orlando, Florida between May 13 and 15. By the looks of it, the Chinese multinational electronics company has a few interesting things to show us. Lenovo gave its attendants a preview of what it likes to call "the world's first foldable PC". Belonging to the ThinkPad X1 family, the new foldable PC is a 13-inch tablet with a single screen that folds in the middle. In addition, Lenovo announced a new sub-brand of laptops called ThinkBook that's aimed at small- and medium-sized businesses.
ThinkPad X1 Foldable PC
Lenovo's Foldable PC under the ThinkPad X1 family is essentially a large tablet with a screen on just one side. The device folds in half inward to take on the form of a conventional laptop but with a virtual on-screen keyboard. According to Lenovo, the screen measures 13.3 inches diagonally and has a 2K resolution. The OLED panel is made in collaboration with LG Display. One variant of the Foldable PC is expected to come with a physical keyboard for improved productivity.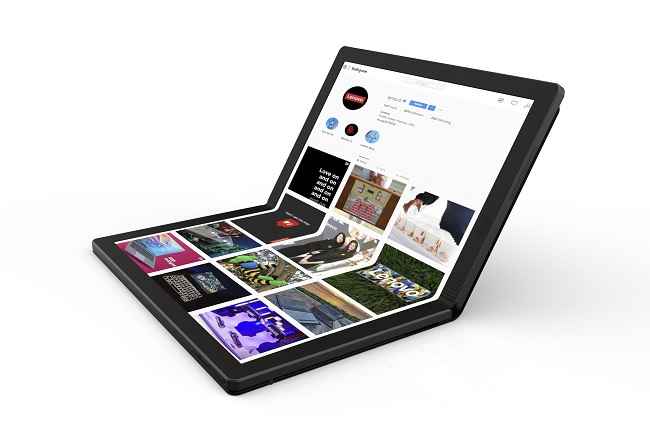 Lenovo revealed very little about the Foldable PC during the unveiling. It only mentioned that it's an Intel-powered device with Windows running on it. The company states a few typical use cases, such as, "Wake up, fold it into a book, and start the day scanning your social media feeds in bed", "Get into the office, dock it into your multi-monitor setup and get to work", and "Go into meetings, take notes with its pen, and write on a full screen tablet". Lenovo is expected to reveal more about the Foldable PC (including product details and availability) next year.
ThinkBook 13s, ThinkBook 14s
Lenovo introduced a new sub-brand of laptops called ThinkBook. Aimed at small- and medium-sized businesses, the new range currently consists of the ThinkBook 13s and ThinkBook 14s. Resembling what one might imagine to be the lovechild of a ThinkPad and IdeaPad, the new ThinBook series comes with a body made of aluminium and magnesium materials. Like a ThinkPad, the display folds back all the way to 180 degrees. While the ThinkBook 13s weighs 1.34 kilogrammes, the ThinkBook 14s weighs 1.5 kilogrammes.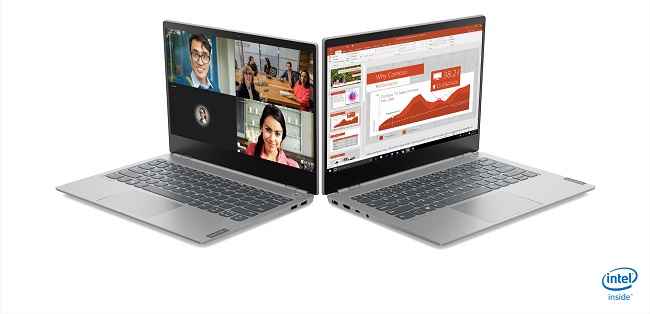 Both ThinkBook models feature a power button that doubles as the fingerprint scanner, discrete TPM 2.0 for data encryption and security, a physical ThinkShutter camera cover, Dolby Audio through HARMAN speakers, Full HD resolution on the screen, spill-resistant keyboard, and over 10 hours of claimed battery life. They also get dedicated keys on the function-key row for answering and ending Skype calls. They're powered by Intel's 8th Gen Core series of CPUs, optional AMD Radeon 540X graphics, and standard solid-state drives. According to Lenovo, they can charge up to 80 percent battery capacity in one hour. The ThinkBook 13s and ThinkBook 15s will go on sale later this month in the US for a starting price of $729 (Rs 51,350 approx) and $749 (Rs 52,750 approx) respectively.
ThinkReality, ThinkIoT solutions
Lenovo announced another sub-brand called ThinkReality, which consists of various AR and VR solutions. The ThinkReality A6, according to Lenovo, is a "lightweight, heads-up, hands-free mobile head-worn device that can be used to deploy both simple and complex AR solutions for enterprises looking to enhance the productivity of their workforce". Weighing 380g, the ThinkReality A6 is powered by the Qualcomm Snapdragon 845 Mobile XR Platform and Intel Movidius.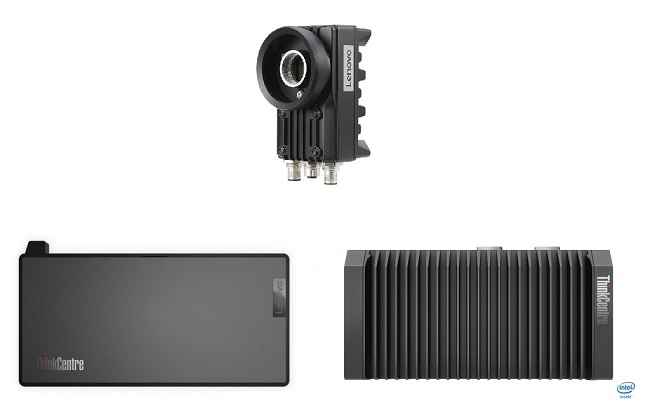 Lenovo's new ThinkIoT ecosystem of products includes the ThinkCentre Nano M90n, ThinkCentre Nano IoT M90n IoT, and EPC300. The first two are fully-functional commercial desktops shrunk to be one-third the size of the ThinkPad Tiny portable mini-desktop. They can connect to monitors and other devices using USB Type-C. EPC300, on the other hand, is a camera solution designed for warehouse automation.