Lenovo debuts its newest models in its line of affordable mainstream laptops, the G570, G470, G575, and G475.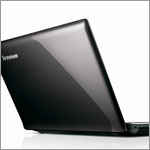 When it rains, it pours. Lenovo today launched new models in its G series of affordable mainstream laptops at the Consumer Electronics Show. The newest G Series models—namely the G570, G470, G575, and G475—can be configured with up to a dual-core Intel Core i7 processor, or AMD Brazos Fusion APU. Other configurable options are memory (up to 8GB DDR3), hard drive (750GB), optical drive (DVD and Blu-ray), and Video graphics (AMD Radeon HD 6730 up to 1GB, except for the G770, which can be configured up to the AMD Radeon 6650
[RELATED_ARTICLE]The 13.3-inch IdeaPad G470 measures 12.9 by 8.6 by 0.8/1.3 inches (HWD), while the 14-inch G570 measures 13.4 by 9.1 by 0.7/1.4 and the 15.6-inch G4575 and G575 measures 14.8 by 9.8 by 0.7/1.4 inches. Dimensions for the 17-inch G770's measurements are yet to be announced.
All four new models sport a 1,366 by 768 display, a multitouch touchpad, and wireless connectivity in the form of 802.11n and Bluetooth 1. All four also feature an integrated 2.0-megapixel Webcam, USB 2.0 ports, 5-in-1 reader, HDMI port. Bundled software includes Lenovo Enhanced Experience 2.0 for Windows 7 with RapidBoot technology.
Availability and pricing for the new IdeaPad G Series laptops are yet to be announced.

Copyright © 2010 Ziff Davis Publishing Holdings Inc.