Just as we report that desktop and laptop PC sales have declined considerably in the last year while netbooks have been immune to this drop, Intex Technologies has launched its own entry into the segment. Say hello to the confusingly named "Intex N101-WC1100". Hopefully, this will be the only product that the company puts into the market, so that it can be simply referred to as "that Intex netbook".
The device does not greatly differ from any of the numerous netbooks already out there. The biggest selling point, it seems, is that there are two colours avialable. As the press release puts it: "It comes in two uber-cool variants – chic red with a classy design imprinted on the top-cover and elegant black." Two colours! Red and black! How uber-cool!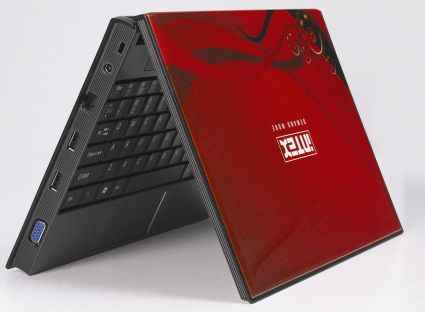 Under the hood, very little impresses us. There's a 10.1-inch WSVGA LED-backlit display, a 1.6GHz Intel Atom N270 processor, 1GB of RAM, a 160GB HDD and a 1.3-megapixel Webcam. Of course, all the usual connectivity options are thrown in too, including Wi-Fi, Bluetooth, a 7-in-1 memory card reader, and a couple of USB ports.
Although the technical specification of the battery hasn't been noted, it boasts of providing around four hours of usage – a claim generally touted by netbooks with a 3-cell battery.
Weighing in at 1.2kgs with the battery attached, the Intex N101-WC1100 retails at Rs 18,900 for the "elegant black" version while the "chic red" will set you back by Rs 19,400. We say you round off the figures, with a note that the extra Rs 100 be given to the writers – either as a sign of your appreciation for making you laugh, or to buy the latest edition of Wren & Martin.