The overall Indian PC shipments in Q3 2013 stood at 3.24 million units, a growth of 8.4% year-on-year, but a slide of about -8.3% over Q2 2013.
The Indian PC market has continued to see a sluggish growth. According to a new report by the research firm IDC, the overall Indian PC shipments in Q3 2013 stood at 3.24 million units, a growth of 8.4% year-on-year, but a slide of about -8.3% over Q2 2013.
IDC says growth in the PC market is based on uptake on commercial volumes owing to fulfilments around large education projects. The report says share of contribution of this segment to rise to around 59% against their share of nearly 50% seen a year ago.
Kiran Kumar, Research Manager at IDC, says: "Special education projects in states like UP & Tamil Nadu and a much delayed spending in the year from the BFSI segment have largely skewed the overall growth in Q3 towards commercial segment."
IDC says demand for consumer PCs remain suppressed against forecast expectations.
According to Manish Yadav, Market Analyst, IDC, "July and August was noted to be upbeat as lower tier channels stocked up owing to exchange rate pressures. However, excess stock mixed with poor end user demand weakened channel buying in September".
In terms of vendor share, HP leads the market with 32.3% share – grabbing about one-third size of the Indian PC market in Q3 2013.
"Vendor continued to receive a boost in shipments as part of a large education project in UP. Also, their ability to maintain better pricing against competition tied with aggressive marketing campaigns on both desktops and portable PCs, helped them scale up their dominance in the India PC market", adds Kiran.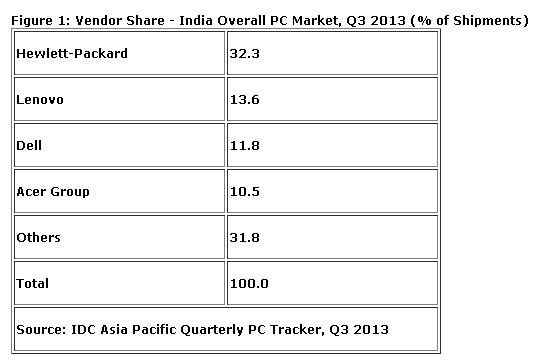 Lenovo is at the second place with a share of 13.6% in Q3 2013. "Their consumer PC business grew at a striking 44.5% over Q2 2013. Focus on expanding channel reach mixed with dominance in AIOs and a growing share in modern retail helped them drive shipments in Q3", comments Manish.
Dell took third spot with market share of 11.8%. "Dell has been very successful with the integration of touch in their mix. Also they have been able to thrive in volume price bands in the recent past", observes IDC.
The research firm expects the slow growth in the fourth quarter as well. "IDC expects Q4 to crumble because we anticipate seasonality and price hike to disrupt PC buying in the quarter ending December".
Additionally, elections in Delhi, civil issues in the state of Andhra Pradesh are further expected to impact the overall buying in some of these larger states. Excitement around product transitions to 'Haswell' family of processors and the launch of Windows 8.1 may not drive demand in the near future.
"Vendors would have to remain careful about their inventory in the subsequent quarters as they prepare to transition to some of these new form factors," concludes Kiran.