Toshiba introduced a range of new devices including a Windows tablet, Chromebook and couple of laptops at the ongoing IFA event in Berlin. Among the lot, Toshiba's Windows tablet – called Encore Mini – has created at lot of buzz as it is considered to be one of the most affordable Windows 8.1-based tablets so far. The Encore Mini is priced at $119.99, roughly Rs. 7,254 (direct currency conversion).
The Encore Mini features a 7-inch screen with 1024 x 600 pixels resolution. It is powered by a quad-core Intel Atom CPU along with 1GB of RAM. The tablet has 16GB of storage, and supports microSD card slot. The tablet has 2MP rear camera and 0.3MP front cameras. For connectivity, the tablet supports Wi-Fi 802.11 b/g/n, Micro-USB and Bluetooth 4.0.
Toshiba also introduced a new Chromebook device. Called the Chromebook 2, the device is priced between $249.99 and $329.99. The Chromebook 2 has a 13.3-inch full HD IPS display. It runs Chrome OS and is powered by a 2.16GHz dual-core Intel processor along with 2GB of RAM (there's a 4GB variant as well).
Other features of the Chromebook 2 include HD webcam, 16GB built-in storage,Bluetooth 4.0, Wi-Fi 802.11 ac, USB 3.0 port, USB 2.0 port, HDMI.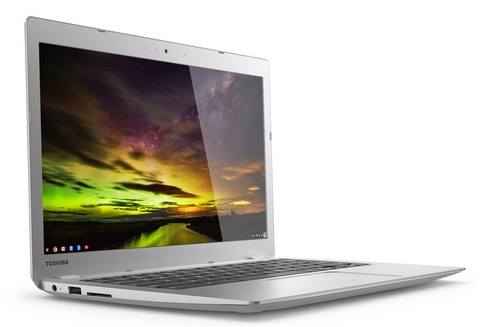 Toshiba showcased two new laptops as well - Satellite Radius 11 and Satellite CL10-B. Both the laptops feature 11.6-inch displays and are aimed at the budget segment.
The Satellite Radius 11 can be used in different modes - laptop mode, tablet mode, audience mode, presentation mode and tabletop mode. The Radius 11 runs Windows 8.1. It is available in two processer variants - Intel Celeron or Intel Pentium along with 4GB DDR3L (1600MHz) RAM. Other features include HD webcam, USB 3.0 port, USB 2.0 port, HDMI, stereo speakers.
The Satellite CL10-B has 2GB of RAM and 32GB storage, but the company offers you 100GB of OneDrive cloud storage and Office online.