HP has announced a slew of computing devices that will form a part of its Windows 8 portfolio of offerings. There are two laptops, one ultrabook, one hybrid and one AIO device.
The Envy TouchSmart Ultrabook 4 is the latest ultrabook from HP. This update brings in a 14-inch multi-touch display (1366 x 768 pixels) to the ultrabook, with Windows 8 out of the box.
The new Envy 4 is powered by an Intel Core i5-3317U processor clocking at 1.7GHz with 4GB of RAM helping it along. It has no dedicated graphics card though, but HP claims that the battery life will touch 8 hours under certain conditions.
The Envy 4 ultrabook comes with a 500GB hard drive and a 32GB mSATA. HP has priced this ultrabook at Rs. 59,990 and will be available from January 2013.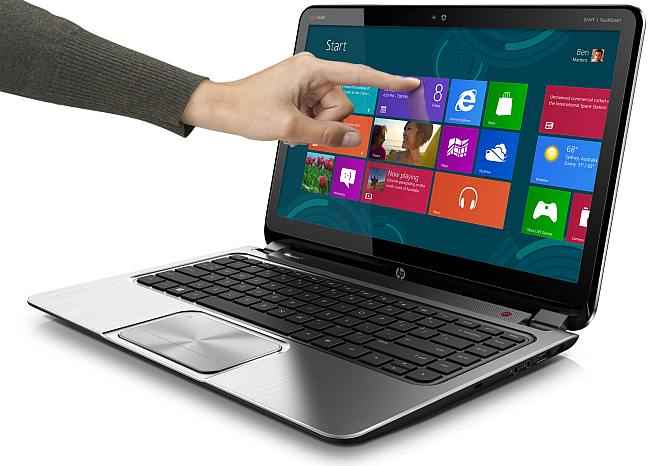 HP Envy 4 Touchsmart Ultrabook
The Envy x2 is the hybrid device that lets you switch between the notebook and tablet mode with ease. The x2 has an 11.6-inch IPS (1366 x 768 pixel) display with multi-touch. The specifications seem slightly on the lighter side though – Intel Atom Z2760 dual-core processor clocking at 1.8GHz and is paired with 2GB of RAM. The x2 will come with a 64GB solid-state drive for storage. Both the base and the tablet have a 2-cell battery each, which combine together in tandem when used in laptop mode. The price of the x2 is Rs. 59,990 and will be available from January 2013.
HP also showed off the Envy dv6, with the updated touchscreen capabilities and slightly boosted hardware. The one on display was powered by an Intel Core i7-3630QM processor clocking at 2.4GHz and is paired with 8GB of RAM. The HP Envy m6 also gets a touchscreen with Windows 8. The prices of both these devices have not been announced yet, but do expect that to change soon.
The HP Envy 23 All-in-one (AIO) PC is powered by an Intel Core i5-3470S quad-core processor clocking at 2.9GHz and is paired with 4GB of RAM. Storage requirements are well taken care off by the 1TB hard drive, and this is the 7200RPM one. The highlight though is the 23-inch Full HD LED display with 10-point touch. The Full HD resolution (1920 x 1080 pixels) makes this a fairly good option for anyone who deals with designing and multimedia on a regular basis. HP says that the Envy 23 AIO will be available for around Rs. 71,990 and will hit stores on December 20, 2012.