Google's latest notebook, called the Acer C7 Chromebook, is even cheaper than the previous one and is aimed at users who want "no nonsense, no licensing agreements and most importantly, no viruses".
The newest Chromebook which has been developed with Acer features a 320GB hard-drive, an 11.6-inch display, Intel processor with 2GB of RAM, USB 3 and HDMI ports, 100GB of Google Drive cloud storage, and it weighs in at about 1kg. But what needs to be pointed out primarily is the price. The Acer C7 Chromebook is priced at just $199, which is $50 cheaper than the Samsung Chromebook launched less than a month ago.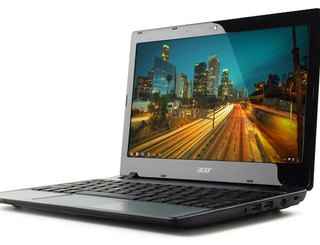 The Acer utilizes a heavier, larger capacity but cheaper traditional spinning hard disk while the Samsung version was lighter and used solid-state flash memory. As to how this affects start-up time is still unclear, though we can reasonably expect it to be slower. The Samsung Chromebook could start up in less than 10 seconds, this is due to there being no drives that had to mount and start spinning. If demand for the Acer Chromebook is as great as it was for the Samsung Chromebook, then the Acer Chromebook is expected to completely sell out in 30 days.
The Acer C7 Chromebook will be available from November 14 on the Google Play store, Amazon and Best Buy in the US and from selected retailers in the UK. And as with all previous Chromebook releases, this model shows Google's focus on making technology and internet access easily available to everyone and once again directs its users toward the cloud.