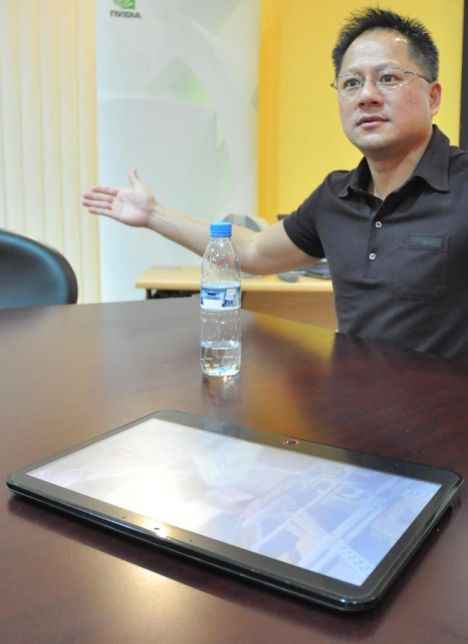 Well, well, well, what have we here! The gesturing man with the funny expression in the above picture is Nvidia CEO Jen-Hsun Huang, talking to
Shufflegazine
, an Apple fans magazine. And right in front of him is a wonderful little tablet device that could perhaps be the first look we have at the upcoming
Apple tablet
.
Huang talked about Apple a lot with the magazine, saying: "Apple uses the best technology for their [computers]. Apple says to their customers: if you buy a computer from us, you can be sure we have selected the best technology inside for you. That is their promise to consumers. Their promise to consumers isn't 'we've selected the best technology for you with the exception of what Intel allows us to use'. That's not their promise. And that's why Apple uses the best technology where they want whenever they want. And that's why I'm all Apple! At home, it's just Macs everywhere. It's Nvidia's technology in all of them, but I use Macs. My son has two Macs, my daughter has a Mac, there's an extra Mac just in case and my wife has a Mac. It's just Mac, Mac, Mac! Because I know it's got the best stuff inside."
Needless to say, the Internet is abuzz with rumours of whether the device that Huang has shown off in the photo is the rumoured Apple tablet itself or a completely different Tegra-powered device. Nvidia has previously
stated
that it is working on a Tegra-powered 7- to 13-inch tablet with partners. And recently, Apple has been quite pleased with Nvidia, throwing in their graphics chipsets into the new iMacs, Macbook and Mac Minis.
Of course, there are reasons to indicate that this could be just another device. For starters, Apple is ultra-secretive about its upcoming gadgets and its manufacturing partners value the secrecy more than workers' lives. So if Nvidia was working with Apple on the tablet, Huang would probably have been a bit more careful.
Then again, considering that this was an Apple lifestyle magazine, the chances of it being the real thing do go up a bit. It's really up to the viewer to decide whether this really is the Apple tablet or not. We are still a bit skeptical, mostly because of how much manufacturer partners fear Apple, but hey, you never know…