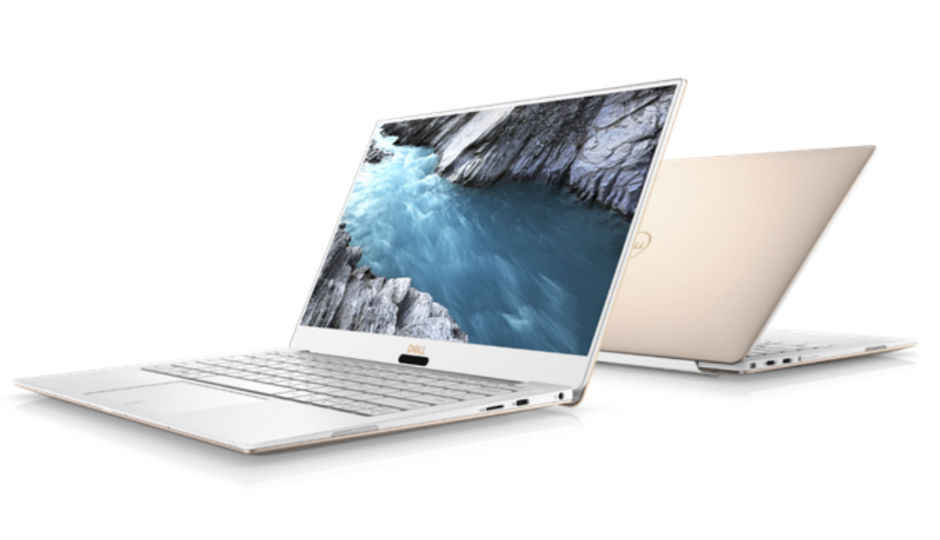 HIGHLIGHTS
Dell has refreshed its XPS 13 laptop featuring an 8th Gen Intel Core processor ahead of CES 2018. The new laptop is thinner, lighter and will be available in a new white-gold colour.
Dell has refreshed its XPS 13 laptop featuring an 8th Gen Intel Core processor ahead of CES 2018 which is scheduled to be held at Las Vegas starting next week.
The new Dell XPS 13 will be showcased at CES 2018 and features a new design with a woven glass fiber finish with a stain-resistant coating to prevent yellowing or staining over time. "In fact, if you get a pen mark or other stain on the white interior you can just wipe it off," claims the company. Dell says that it is the first laptop vendor to use woven glass fiber and the material also helps the laptop stay cooler. Further, The XPS 13 comes in a new white-gold colour variant with white power cords and USB-A/USB-C adapter. The ports and camera placement have also been updated in the new XPS 13.
In terms of design, the new Dell XPS 13 is lighter and thinner than its previous iteration, but only by a slight margin. The laptop is now 3.4mm thinner than last year's model with a thickness of 0.6 inches. It is also 90 grams lighter that the 2017 XPS 13 and weighs just 1.22 Kg.
Another addition is that of a higher 3840 X 2160 resolution display. "Now with a higher resolution display, incorporating 2.5 million more pixels with 4K Ultra HD compared to the previous QHD+ , the 100% sRGB display on the XPS 13 gives you great, saturated and accurate color, whether for graphic professionals or watching your favorite Netflix show," Dell states in a media release.
Dell claims that the all new XPS 13 provides "the longest battery life of any 13-inch laptop, with almost 20 hours on FHD, up to 11 on UHD."
In addition, Dell has also updated the ports on the laptop and changed the position of the camera. The camera has now been moved to the centre of the lower bezel and the laptop feature 3 USB-C ports while both USB 3.0 ports have been shaved off. The SD card reader of the XPS 13 has also been replaced by a microSD card reader on the new XPS 13.
The new Dell XPS 13 starts at $999.99 (Rs 63,343 directly converted). Dell is also offering an Ubuntu-based developer edition of the laptop with Linux preloaded starting at $949.99 (Rs 60,172 directly converted).