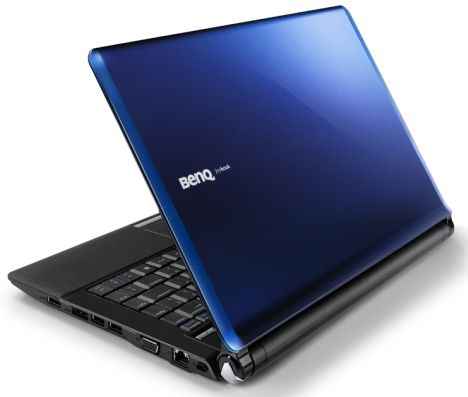 With Sony bringing in the 'size zero' Vaio X and the ultra-portable notebook market heating up in India, BenQ wasn't going to be left far behind. The company has debuted its 1.5 kg Joybook S35 and 2.1 kg Joybook S43 in the emerging ULV (Ultra-Low Voltage) notebook market.
The biggest difference between the two notebooks is that the Joybook S35 has a 13.3-inch screen while the S43 sports a larger 14-inch display. The larger display on the S43 is accompanied by a dedicated Nvidia GeForce 9600GT graphics card.
Engineered for the mobile businessman and Internet enthusiast, the Joybooks feature super-fast Wi-Fi, eSATA high-speed data transfer, and extra-long battery life.
The notebooks run on Intel's Pentium Dual Core SU4100 processors, which provide energy efficiency and proven reliability for our computer needs. And yes, both the BenQ Joybooks are pre-loaded with Windows 7.
The BenQ Joybook S35 and Joybook S43 both have a long lasting battery life. The Joybooks S35 uses 8-cell battery for upto 11 hours runtime, while the Joybook S43 uses 6-cell battery for 5 hours runtime.
For multimedia bliss, the devices are equipped with a Webcam, microphone, integrated speakers, a 2-channel TruSurround HD sound system with SRS Headphone 360, and a large-capacity HDD of up to 500GB. Both models boast eSATA high-speed data connection for data transfer that's three times faster than USB 2.0. The S43 is further distinguished by an 8X DVD Super-Multi optical disc drive.
Both models are available in super high-gloss blue and black colours, with extreme polish and wear resistance made possible by IMR processing. User comfort is enhanced by a full-size keyboard and a gapless touchpad that is seamlessly continuous with the palm rest, preventing unsightly dust from accumulating in fine crevices.
The S35 also boasts a unique "flying eaves" hinge design and a raised dot pattern that distinguishes the palm rest from the sunken pattern of the touchpad for visual fluidity in design that is easily discerned by touch.
The BenQ Joybook S35 is priced at Rs. 37,199, while the Joybook S43 costs Rs. 40,399.