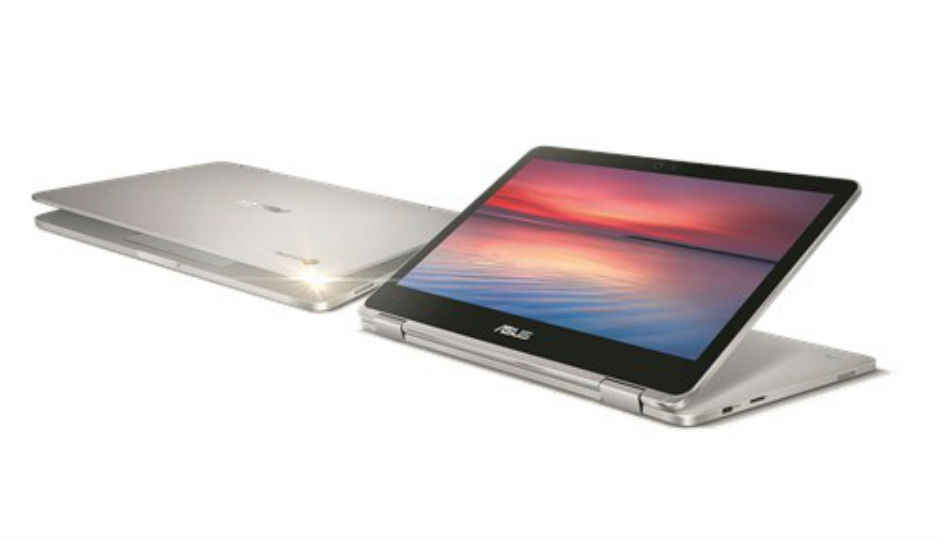 HIGHLIGHTS
Asus Chromebook Flip C302CA comes with 12.5-inch Full HD display and supports Android apps
Asus has officially announced the Chromebook Flip C302CA at CES 2017 today. The Chromebook Flip C302CA is the successor to the original Chromebook which holds a certain distinction of being one of the first to support Android app emulation. The new Chromebook Flip C302CA comes with a larger 12.5-inch display and uses two USB-C port, a common trend among PC makers at CES.
Asus Chromebook Flip C302CA offers a 360-degree hinge and its 12.5-inch Full HD display enables users to turn the notebook into different modes like laptop, tent, display and tablet. Asus Chromebook Flip C302CA runs on Chrome OS, so users can take advantage of Android Apps which tend to work well with touchscreen devices. The notebook comes with an aluminium metal unibody design along with Intel Core m3 CPUs powering the machine. Asus Chromebook Flip C302CA can be configured with 4GB or 8GB RAM, and there is an option for upping the storage to 128GB. The notebook offers a backlit keyboard, HD web camera and multi-format card reader. Asus Chromebook also supports Wi-Fi 802.11ac, Bluetooth 4.2 and comes with two USB-C ports. Asus claims Chromebook C302CA can last up to 10 hours on a single charge, which sounds impressive for a touchscreen notebook. Asus Chromebook weighs under 1.2Kg and offers an interesting mix of form factor and features.
Chromebooks are yet to gain popularity in India and most OEMs have concentrated on their Windows equivalents due to lack of a connected infrastructure. Asus already sells its original Chromebook Flip in India and we expect to see this one arriving here very soon.