Apple has launched what it calls world's first Thunderbolt Display. The feature rich display has edge-to-edge glass design, aluminum an glass enclosure and uses the IPS technology. The aspect ratio is 16:9, and has a 178-degree viewing angle. he built-in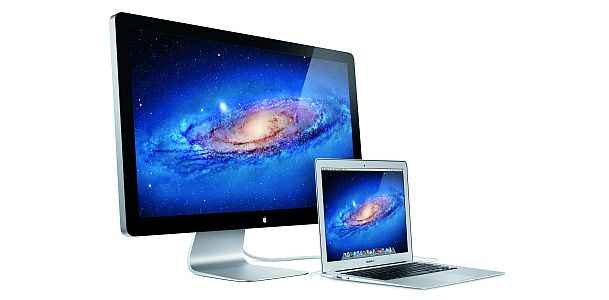 This is basically 27-inches of Thunderbolt goodness, LED style! The display is a 27-inch display has edge-to-edge glass design, aluminum an glass enclosure and uses the IPS technology. The aspect ratio is 16:9, and has a 178-degree viewing angle. The built-in ambient light sensor adjusts brightness according the brightness around you.
This display is compatible with any Thunderbolt capable MacBook, and is being positioned as the 'ultimate docking station'. Users can access FaceTime HD camera, high quality audio, Gigabit Ethernet, FireWire® 800, USB 2.0 and Thunderbolt ports. This display/docking station will connect to the MacBook Pro or the MacBook Air, and charge then when in use.
[RELATED_ARTICLE]
"The Apple Thunderbolt Display is the ultimate docking station for your Mac notebook," said Philip Schiller, Apple's senior vice president of Worldwide Product Marketing. "With just one cable, users can dock with their new display and connect to high performance peripherals, network connections and audio devices."
According to Apple, the Thunderbolt Display is the world's first display to include Thunderbolt I/O technology. Featuring two bi-directional channels with transfer speeds up to an amazing 10Gbps each, each Thunderbolt port delivers PCI Express directly to external peripherals such as high performance storage and RAID arrays, supports DisplayPort for high resolution displays and works with existing adapters for HDMI, DVI and VGA displays. Thunderbolt-based Macs with discrete graphics can drive two external displays giving professional users over 7 million additional pixels of display real estate and the ability to daisy chain additional Thunderbolt devices, as well as video and audio capture devices.
The Thunderbolt display will retail for Rs 56,900.
Along with the new Thunderbolt display, and the MacBook Air refresh, Apple has also showered some love on the Mac Mini. Users can now select a version from the latest range of the Intel Core i5 and Core i7 processors. For discrete graphics, the ATI Radeon HD 6630M solution has been introduced with the new Mac Mini. The new OS, the OSX Lion will come pre-loaded on the machine.

Apple seems to be giving the Thunderbolt I/O technology loving to almost all its products, and the Mac Mini too gets these capabilities. Users can configure up to 8GB of RAM, faster 7200rpm hard drive or even a 256GB flash drive. What the Mac Mini doesn't get is an optical drive, and that seems to be critical to keeping the Mac Mini's size down. The current version has 7.7-inches in width and just 1.4-inches in height.
Prices of the new Mac Mini
Intel Core i5 2.3GHz dual core, 2GB RAM and a 500GB hard drive: Rs. 44,900
Option to add memory up to 8GB and a 750GB hard drive.
Intel Core i5 2.5 GHz dual-core, 4GB of memory and a 500GB hard drive: Rs. 54,900
Options to upgrade to a 2.7GHz dual-core Core i7 processor, up to 8GB of memory, and a 750GB hard drive with an option to add or replace with a 256GB solid-state drive.
Intel Core i7 2.0 GHz quad-core with Lion Server, 4GB of memory and dual 500GB hard drives: Rs. 56,900
Options to upgrade include adding memory up to 8GB, two 750GB hard drives, or up to two 256GB solid state drives.
Also read,