Some of the most exciting gadgets to come out of CES 2011 were Acer's bunch of tablets, netbook and laptop hyrbids, which included the Acer Iconia laptop and the Iconia Tab A500. Acer also introduced two new Android phones, which we have also covered here
Some of the most exciting gadgets to come out of CES 2011 were Acer's bunch of tablets, netbook and laptop hyrbids, which included the Acer Iconia laptop and the Iconia Tab A500. Acer also introduced two new Android phones, which we have also covered here. You can check out more coverage of Acer's latest laptops and netbooks here.

Acer Iconia Windows 7 Laptop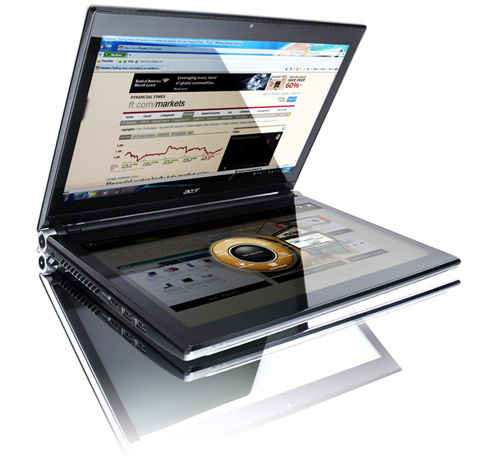 First shown off in November last year, the 14-inch dual screen (multitouch, and 1366x768 resolution) laptop product was demoed in all its glory at CES 2011, and runs Windows 7 Home Premium (64-bit) on a full-fledged mobile Core i5 processor.
Configuration options include Intel Core i5-480M / 560M / 580M for the CPU, up to 4GB of DDR3 RAM, integrated Intel HD graphics, VGA/HDMI/SPDIF as well as USBO 2.0 and 3.0 ports, choice of 320/500/640/750GB HDD. Other specifications include an integrated CrystalEye webcam (1280x1024 resolution) and microphone, 802.11b/g/n Wi-Fi and Bluetooth 3.0 HS, as well as integrated 3G WWAN and gigabit Ethernet. The whole thing is powered by four-cell battery, weighs about 2.8 kilograms.
As you would expect, this monster device will not be cheap, and will probably retail for about Rs. 1,00,000, if the $2,000 price tag is anything to go by.
Acer Iconia Tab A500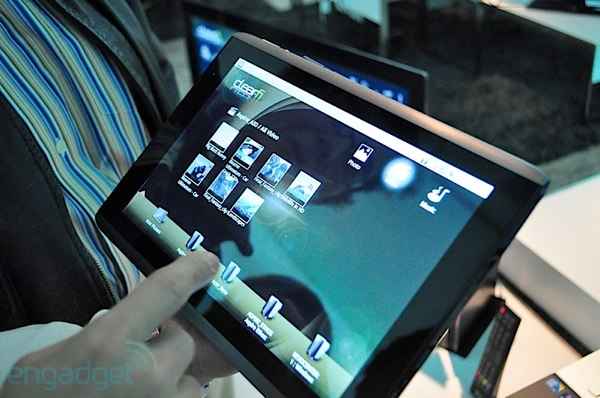 There is another Acer Iconia, and this one is called the Iconia Tab A500. All tablet, no dual-screen, the Iconia Tab A500 runs a version of the Google Android operating system with Acer UI 4.5 skin on top of it. For now, it has not been specified whether this is Gingerbread, Froyo or Honeycomb. So, while not too much is known about it, it is still a pretty exciting tablet, and can be direct competition to some of the other Android tablets introduced at CES, including the Motorola Xoom, and the Notion Ink Adam.
Known specifications include: 10.1-inch multitouch screen, Nvidia Tegra 2 as the CPU/GPU, a gyroscope for gaming, and 1080p HD video output via the built-in HDMI port. For now, the tablet is going to be released in partnership with Verizon, with a built in 4G LTE network adaptor. However, we might see a Wi-Fi only or 3G version hitting global shores soon enough.
Acer Froyo Phones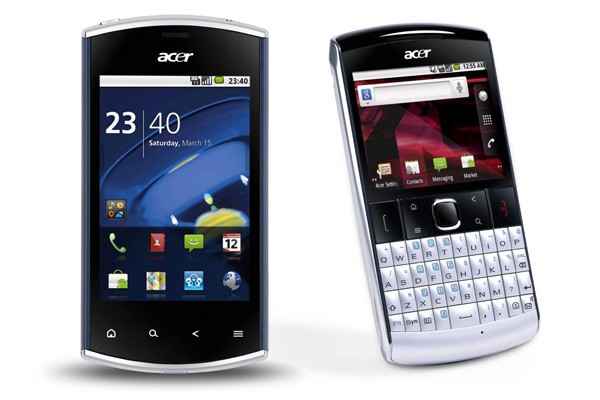 Acer certainly has been busy this CES, and apart from tablets, laptops (more coverage soon) and hybrids, has also announced two new phones, due to release in March and April.
The first of the two is the Acer Liquid Mini, which is a smaller version of its predecessor, sporting a 3.2-inch screen (480x320), 5MP camera capable of 480p video, 600MHz Qualcomm 7227 processor, 512MB of RAM and ROM, as well as DLNA/Wi-Fi/Bluetooth/GPS/FM radio connectivity.
The second, beTouch E210, runs on Android Froyo as well, and unconventionally is a full-QWERTY Android phone. It comes with a 2.6-inch screen (320x240), 3.2MP camera, 416MHz ST Ericsson processor, 512MB ROM and 256MB RAM, trackpad, as well as the usual connectivity options.

Source: Engadget