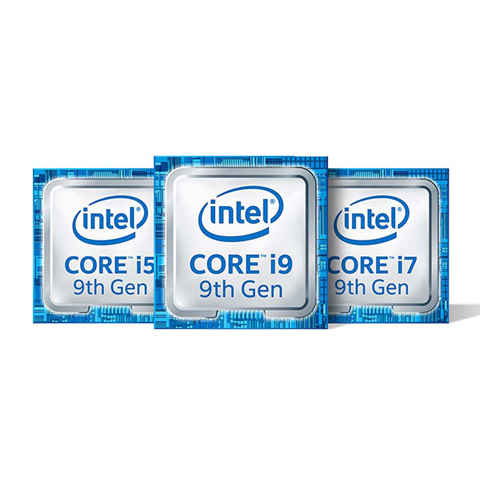 HIGHLIGHTS
Top SKU is Core i9-9980HK 8C/16T with max Turbo @ 5 GHz

IGP remains the same - UHD 630

No Core i3 CPUs in the launch lineup
Intel launched new 9th Gen Core mobile H-series processors with 8 cores / 16 threads and Wi-Fi 6 integration. Intel's 8th Gen mobile processor launch was a significant upgrade over the previous generations owing to the inclusion of two additional cores and with today's launch, they've repeat performance as these H-series 9th Gen mobile processors also have a similar performance upgrade. At the top of the H-series stack is the Intel Core i9-9980HK which boasts of a 33% improvement in performance over a 3-year old PC. These new processors will continue to be designed for 45W TDP and use the same platform which means that OEMs can simply switch to these new CPUs without any significant overhaul.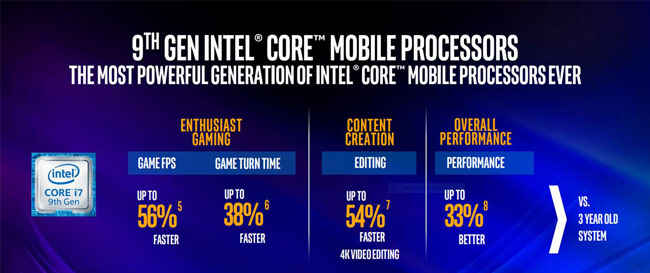 The additional cores seem clearly aimed at the content creators who stand to gain immensely since a higher thread count helps reduce time taken for rendering and encoding workloads. "Our new 9th Gen platform is designed to delight gamers, creators and performance users by giving them more of what they want. We are bringing desktop-caliber performance with up to 5 Ghz and 8 cores in a range of thinner systems and new level of connectivity with Wi-Fi 6 (Gig+) so users can game or create where they want." –Fredrik Hamberger, General Manager of the Premium and Gaming Laptop Segments at Intel
Intel 9th Gen Core Mobile Processors
We see that Intel has included one completely unlocked SKU at the top of the table with both multiplier as well as base freq unlocked. And there's the Core i5-9850H which has a partial unlock i.e. the multiplier can be bumped up by x4 at most. The Core i9-9980HK is followed by the Core i9-9880H which seems poised to be the favourite SKU for OEMs since most laptop OEMs don't consider overclocking to be a selling point at the moment. Very few laptops would end up with the Core i9-9980HK. We wouldn't be surprised if all the current laptops with the 8th Gen Core i7-8750H ended up replacing the CPU with the Core i7-9750H. The bottom of the SKU table has two Core i5 SKUs, namely, the Intel Core i5-9400H and the Core i5-9300H which are 4C/8T CPUs. Surprisingly, there are no Core i3 SKUs in the 9th Gen H-series lineup. So we should either see something after AMD's COMPUTEX 2019 keynote or OEMs will stick to the 8th Gen Core i3-8100H since there is little scope for improvement in that segment.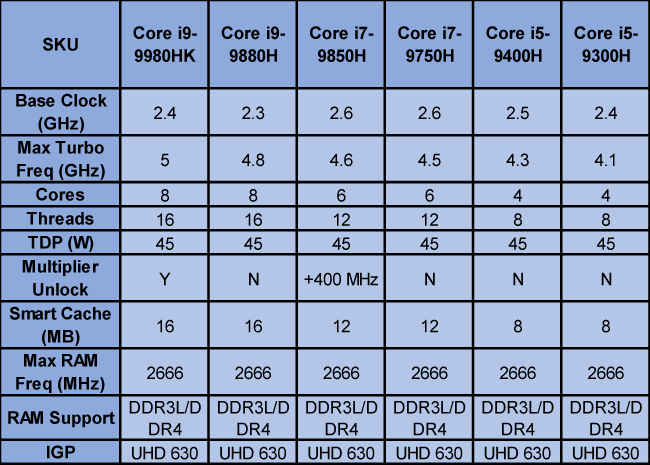 The IGP is still the UHD630 that we've seen in the 8th Gen H-series lineup with certain SKUs receiving a small bump of 50 MHz. As for the process node, these processors are all based off the same 14nm++ node. On the frequency side of things, this would be the first mobile processor to hit the 5 GHz barrier at max Turbo frequency, though we don't know for how long it would be able to sustain such a high frequency given that the TDP for the SKUs has remained the same. If laptop manufacturers do not upgrade their cooling solutions, then we will rarely see the CPU running at 5GHz for long during extended work loads.
Support for Wi-Fi 6 and Optane SSD
Intel is integrating the NIC onto the platform so every laptop powered by an Intel 9th Gen CPU will have support for Wi-Fi 6 AX200 (Gig+). Only that you'll still need a CRF module. Also, all platforms using the Intel 9th Gen CPUs will natively support Intel Optane memory technology.