WhatsApp has reiterated that the new policy changes will not affect regular users but are instead for business accounts and chats
WhatsApp has reiterated that the new policy changes will not affect regular users but are instead for business accounts and chats. On the morning of January 6, WhatsApp users around the world received a notification of an update to the privacy policy that detailed how WhatsApp processes users data and partners with Facebook for deeper integration. However, the popular instant messaging app started receiving flak soon after it was noted that there was no option to opt-out of this change as before.
"We want to be clear that the policy update does not affect the privacy of your messages with friends or family in any way. Instead, this update includes changes related to messaging a business on WhatsApp, which is optional, and provides further transparency about how we collect and use data," WhatsApp said.
The Facebook-backed company has detailed that it cannot see users chats, group chats or listen to calls and that it is encrypted in a secured way. The same applies to parent-company Facebook, who does not have access to this private information, WhatsApp has clarified. Additionally, WhatsApp has said that it does not keep a log of chats or calls being made on its platform. "We believe that keeping these records for two billion users would be both a privacy and security risk, and we don't do it," the company says in the new FAQ section.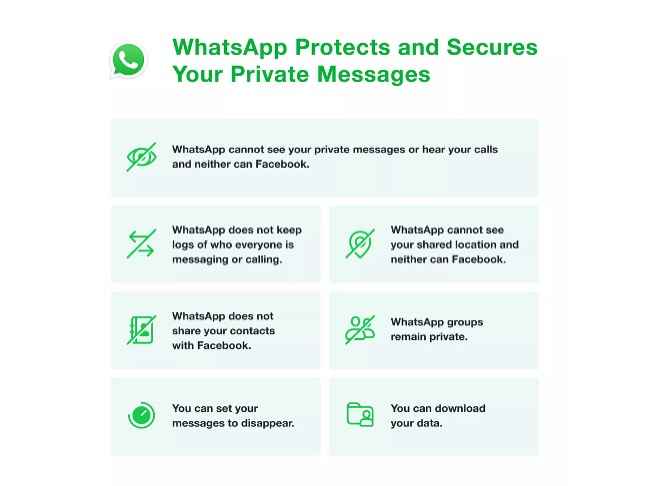 WhatsApp has also reiterated that it cannot see your shared location as it remains end-to-end encrypted and that it does not share contact information with Facebook. "We access only the phone numbers from your address book to make messaging fast and reliable, and we don't share your contacts lists with the other apps Facebook offers," the company added.
Recently, WhatsApp introduced disappearing messages on its platform allowing users to set messages to auto-delete itself after the receiver has read it. Additionally, WhatsApp states that anyone who is still in doubt over the kind of information it collects, users can download their data from WhatsApp and have a look at everything the messaging app has collected over the years.
WhatsApp has also outlined how it works with Facebook and business accounts saying that it wants to make it easier for people to connect with a business account if they should require. "Messaging with businesses is different than messaging with your family or friends," the company states.
WhatsApp recently introduced Facebook hosting services for business account users to manage their chats with customers and more with ease. It will now start labelling businesses that choose to use hosting services from Facebook for better clarity as they can use the information a customer provides in chat to advertise on Facebook.
Additionally, Facebook may also add a button to message a business in one of its ads and if the user has WhatsApp installed on their phone, clicking the link will directly take the user to the WhatsApp business account.
Since the update to WhatsApp's privacy policy gained the spotlight, users started jumping ship to alternative messaging apps like Signal and Telegram. The exodus only increased in number after Tesla CEO Elon Musk tweeted asking followers to use Signal. Soon thereafter, Signal's sign-up process got flooded with too many requests it couldn't handle.
WhatsApp's new privacy policy will take effect from February 8 and users will have to choose to accept the new terms to continue using the app.