A week after delisting all the Huawei devices from Android, Android Enterprise program, and Android Q Beta program webpages, Google has taken a U-turn to relist the Huawei Mate 20 smartphone on its Android Q beta website. It is speculated that the inclusion is temporary and the device could remain on the platform till the completion of the 90-day respite.
The Bureau of Industry and Security (BIS) of the US Department of Commerce gave 90-day license to Huawei a day after the US Government blacklisted the company. The permit would allow the company to conduct business and provide updates for all Huawei and Honor smartphones that are already in the market. Relisting the Huawei Mate 20 on the Android Q page could mean that the phone will also get the Android Q betas that Google may launch in the near future.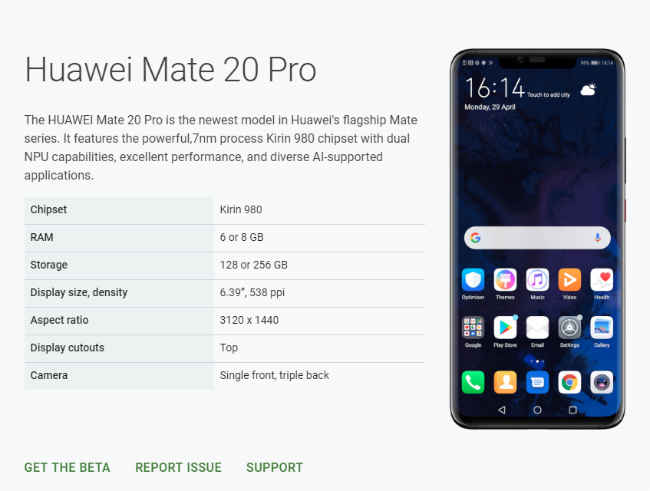 Before making a come back on the Android Q page, Huawei made a return to the company lists of SD Association and Wi-Fi Alliance. Just like from Google's Android-related pages, Huawei's company name was also removed from their respective lists following the ban. The ban apparently pressurised all major US equipment and services suppliers to cut trade ties with the Chinese tech giant.
Huawei is reportedly developing its own OS, which may be called the Ark OS. The company has trademarked three names with European Union Intellectual Property Office (EUIPO). These names were apparently registered on May 24 and include HUAWEI ARK OS, HUAWEI ARK, ARK and ARK OS. The company was also reported to be in talks with Aptoide as Google Play Store alternative for apps for future smartphones.