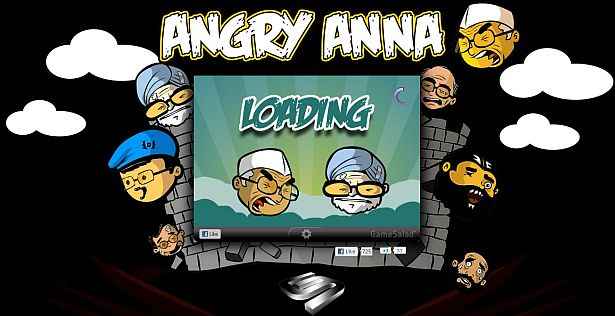 Who says you cannot have fun while supporting the ongoing anti-graft movement led by Anna Hazare? Fun, Angry Birds style! Geek Mentors Studios, a Noida-based app developing company, has launched "Angry Anna", a game where Anna and other social activists wipe out the "corrupt politicians".
[RELATED_ARTICLE]
The Angry Anna game is already a massive hit, garnering extensive media coverage. "Angry Anna" is one of the most popular topics on Twitter. Over 300 tweets have mentioned Angry Anna game soon after its launch. In addition, the website angryanna.com received more than 46,000 hits within 24 hours of the launch.
The Angry Anna game is inspired by Angry Birds, with the sole difference being the animated faces of anti-graft leaders such as Anna Hazare and Baba Ramdev who replace the Angry Birds of the original game. The "pigs" have been replaced with the faces of some "corrupt politicians". The Angry Anna game has four levels.
The online world is no more indifferent to the things taking place in the society. The ongoing anti-corruption movement has already seen a huge contribution from the tech world. Earlier, the India Against Corruption launched an app for the smartphones that enabled users to access all the latest updates related to the movement.
Have you played the Angry Anna game? Share your experience with us in the comments section below:
Also read,