You knew this was coming, you knew it would find you at your most vulnerable, and yet you did not prepare yourself. So, who will you blame when the Steam Holiday Sale 2013 leaves you on the precipice of bankruptcy, once again? Those among you who are more secure about your financial potency should head on over to store.steampowered.com (or launch the Steam client on your desktop) to check out some of the best deals on PC games you will get to see all year. The sale will last up to 3rd January.
The Steam Holiday Sale 2013 comprises of three types of sales- the first are the Daily Deals, a set of nine games (that number depends on regional restrictions) that are massively discounted over the span of a day. The second set of discounts apply on the four games featured in the Flash Sales, which lasts for eight hours. The third type of sale is branded Community Choice, which sees one game getting a significant discount. The game is decided every eight hours based on community voting.
Currently, there are some damn great discounts running on excellent games such as The Stanley Parable (Rs. 560 approx.- 40% discount), Bioshock Infinite (Rs. 930 approx.- 75% discount), Dishonoured (Rs. 465 approx.- 75% discount), Batman: Arkham Origins (Rs. 1,550 approx.- 50% discount), Dead Island (Rs. 310 approx.- 75% discount), Torchlight II (Rs. 310 approx.- 75% discount) and Alice: Madness Returns (Rs. 310 approx.- 75% discount).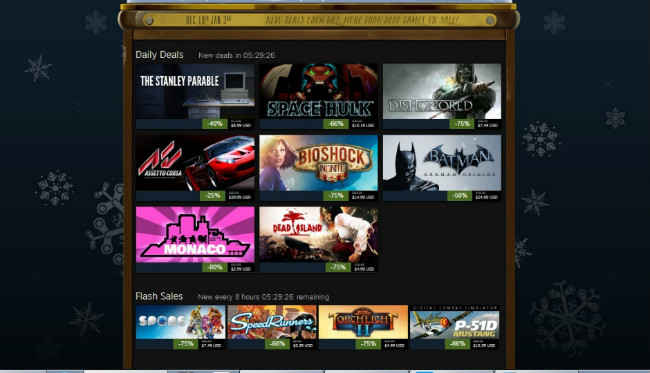 Make sure you check out the Steam Store regularly to keep tabs on the latest discounts. Those of you with light wallets and heavy hearts can take solace in the fact that all this has happened before, and all this will happen again.