Ending a long wait for the gaming enthusiasts in India, Sony has finally launched its latest console – PlayStation 4 – in the country. Priced at Rs. 39,999, the Sony PlayStation4 comes with a wide range of new and improved features. Pricing of the new games for the PS4 start at Rs. 3,499.
The Sony PlayStation 4 is powered by AMD's 8-core 64-bit x86 'Jaguar' processor. It is equipped with 8GB of GDDR5 memory, and AMD's next-generation Radeon GPU. It also has 500GB Hard disk drive, a Blu-ray Disc drive and range of new social features.
The Sony PlayStation4 features USB 3.0, Aux, Ethernet, IEEE 802.11 b/g/n, Bluetooth 2.1, and HDMI out port.
Among the new highlights of the PS4 is the new controller DualShock4. The revamped controller features a share button, light bar and headphone jack. The share button enables gamers to broadcast their gameplay in real-time via streaming websites such as Ustream. The "Share" button also lets you share images and videos to Facebook. The controller also has a touchpad at the front as a new input method.
To know more about the new console, read our Sony PlayStation 4: All you need to know Also read Xbox One vs. PlayStation 4: Tear 'em Down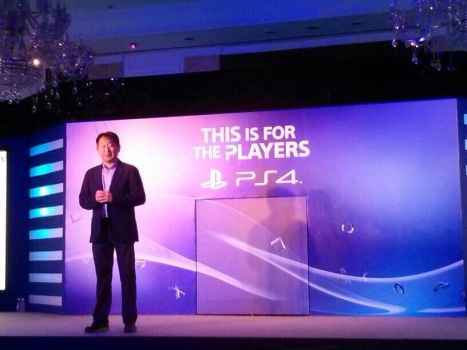 Sony India MD Kenichiro Hibi addressing the audience at the PlayStation 4 launch
Sony's PlayStation 4 has so far met with great excitement across the world. As of December 1, 2013, Sony has sold 2.1 million PS4 units consoles worldwide since the launch in the US on November 15.
Update: Sony has clarified on pricing the PS4 higher than expectations.

In an interview with Firstpost, PlayStation India Head Atindriya Bose has blamed 'the current tax and high deficit rate' for the higher price.

"We can't make the direct conversion from the US price into the Indian price. You have to realise that those conversions are happening sans any tax structures. We have 36 to 37 percent taxes to pay between our import taxes and VAT," Atindriya Bose is quoted as saying.
Update: Snapdeal is offering PS4 games Lego Marvel Super Heroes and Injustice Gods Among Us: Ultimate Edition for the PS4 at Rs. 2,499.