Nintendo has finally announced the launch date and price for its Wii U console in North America. The gaming giant will break tradition and launch the Wii U in the US first and later in Japan.
Yesterday we reported that Nintendo has announced the launch date and price for the Wii U in Japan. The Wii U will hit store shelves in the U.S. on November 18 and on November 30 in the U.K.
The Basic Set will cost $299.99 (Rs. 16,500 approx.) and the Premium Set will cost $349.99 (Rs. 20,000). The Basic set that costs $299 will contain the Wii U console, one GamePad, sensor bar, 8GB built-in storage and HDMI cable.
The $349 Premium Set, Wii U console, one GamePad, sensor bar, HDMI cable, charging stand, console stand, 32GB SSD and Nintendo Land game disc. The Premium set also comes with a Nintendo Network Premium Subscription, that lets gamers avail discountson contentpurchased online.
One surprise at Nintendo's launch event was that Bayonetta 2 will be a Wii exclusive. You can take a look at the teaser trailer below:
Another surprise announcement that came from Nintendo was about the service TVii. The current gen consoles – Xbox 360 and the PS3 have the potential to be the center of your entertainment and media consumption. The Wii U– Nintendo's idea for being the centerpiece of your home entertainment.
Video services such as Netflix, Amazon Instant, Hulu Plus, and YouTube will make an appearance in TVii. Other features of TVii include the capable of cross-platform search through both streaming-video services and live TV, providing second-screen information via the GamePad screen, and also the ability to controlling your DVR and other home theater components,something on the lines of a universal remote.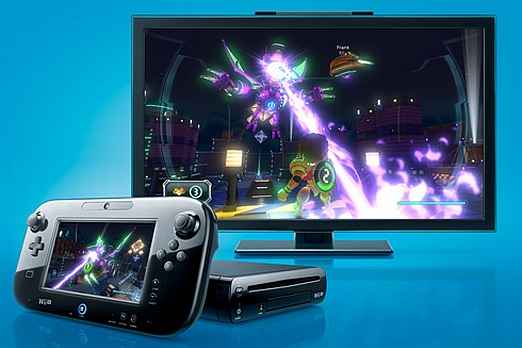 If you are wondering what games will be available for the system, Nintendo has said that over 50 games will be available during the launch window (November 18 to March 2013). The list of games is as follows:
New Super Mario Bros. U
Lego City: Undercover
NintendoLand
Ninja Gaiden 3: Razor's Edge
Game &Wario
Sing Party
Pikmin 3
Wii Fit U
The Wonderful 101 (formerly Project P-100)
Call of Duty: Black Ops 2
NBA 2K13
Warriors Orochi 3: Hyper
Tank! Tank! Tank!
Tekken Tag Tournament 2
Zombi U
Rabbids Land
Just Dance 4
Marvel Avengers: Battle For Earth
You Shape: Fitness Evolved 2013
Sports Connection
Assassin's Creed III
Rayman Legends
Darksiders II
Jeopardy!
Wheel of Fortune
Runner2: Future Legend of Rhythm Alien
Nano Assault Neo
Aliens: Colonial Marines
Sonic & All-Stars Racing Transformed
Skylanders Giants
Rapala Pro Bass Fishing
Transformers Prime
Scribblenauts Unlimited
Game Party Champions
Batman: Arkham City Armored Edition
Zumba Fitness Core
Wipeout 3
007 Legends
Cabela's Dangerous Hunts 2013
Monster Hunter 3 Ultimate
Trine 2: Director's Cut
Toki Tori 2
Funky Barn
Ben 10: Omniverse
Rise of the Guardians: The Video Game
Family Party: 30 Great Games Obstacle Arcade
Epic Mickey 2: The Power of Two
Mass Effect 3
FIFA Soccer 13
Madden NFL 13
Runner2: Future Legend of Rhythm Alien
Jett Tailfin
Some of the multiplatform games from the above list will be launched with Wii U exclusive content. For those of you that are interested can watch the Wii U event below: