Warner Bros Interactive Entertainment announced yesterday that it would be developing a new Lord of The Rings game with Snowblind Studios, who shall be at the helm of the production. Called War in the North, the LOTR game will be an 'action-adventure RPG' for all three platforms, PC, PS3 and Xbox 360, and will be released sometime in 2011.

Containing "unseen lands, story elements, and characters from Middle-earth, as well as elements familiar from past feature films", the War in the North is based on the Tolkien's novel trilogy as well as Peter Jackson's adaptation with "original and familiar narrative material", and will be made in involvement with Middle-earth Enterprises, the company in charge of the IP of LOTR and other Tolkien-related properties.
Like most action/adventure RPG's, the War in the North will feature customizable upgradeable player abilities and weapons. What will make this game stand out from previous LOTR offerings is that it will also feature "an innovative approach to online co-op gameplay, woven throughout every facet of the game". Warner Bros. calls this a "groundbreaking online co-op in [a] new action RPG odyssey". Martin Tremblay, President of Warner Bros. Interactive Entertainment said "With The Lord of the Rings: War in the North we are taking a mature approach to the widely celebrated property with authentic portrayals of battles and all new storylines,". You can say mature again! The game will be the first M-rated ( 17) LOTR title ever, probably with hopes to "deliver The Lord of the Rings game fans have been waiting for".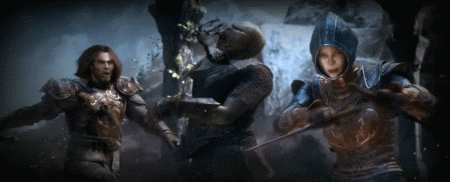 You can see the full announcement here, and visit the game's site here.