Microsoft has named its next-generation game console the Xbox 720, is stuffing it with major hardware and software upgrades, and will release it ahead of the 2013 holiday season, according to a leaked document that's turned up on document-sharing site Scribd.
If legit, the 56-page document titled "XBox 720-9-24 Checkpoint Draft 1" reveals a host of details about the technology being rolled out with the next-gen Xbox and Microsoft's thinking about the competition in not just the rarified console market but also from Apple and Google.
And whoever prepared the presentation thinks Microsoft should price the Xbox 720 at $299 bundled with a second-generation Kinect sensor. The product life cycle of the next-gen game console? Ten years, according to the leaked document. And here's the suggested marketing tagline for the Xbox 720: "All Your Entertainment. One Box."
Microsoft has been very clear that it will not unveil a new Xbox until after 2012, so it's not a shock to learn that yes, 2013 is the target for the Xbox 720. There is something in store for Xbox 360 owners before the year is out, however—the document indicates that Microsoft plans to release XTV service and apps for the 360 in time for the holidays.
What's also interesting is the look-in we get on the software giant's internal discussion about rollout timing and the life expectancy of its current console on the market.
In a slide asking, "Why do we need a next gen Xbox in 2013?" Microsoft posits that its Xbox 360 business will decline beginning next year, while Gen 8 gaming platforms from rivals Sony and Nintendo raise the bar and "new threats from Apple (AppleTV) and Google (Google TV)" emerge to challenge the leading game console maker.
The document also points to "Xbox 360 Limitations," which according to Microsoft include:
No full fidelity AAA Games Kinect V1 sensor
Will not support full range of XTV platform scenarios (e.g. 1080p video Video Chat HTML5 Apps)
Lacking modern entertainment capabilities (e.g. Blu-ray, Native 3D output, 2x1080p in/out)
Can't run "always on"/low power states
Can't run multiplexed or concurrent applications and service
Microsoft plans to remedy most or all of those deficiencies with the Xbox 720, however. According to the document, the next-gen console will support Blu-ray, native 3D, video acceleration, and five distinct power states ranging from "full power" to "standby."
For "competitive differentiation," the Xbox 720 will support "next-gen AAA games" that Microsoft promises will be four times to six times more awesome than titles currently available for the Xbox 360. A second-generation Kinect accessory referred to as Kinect V2 will provide "closer, wider, deeper" 3D play space, improved voice recognition, four-player tracking, dedicated processing, and an improved HD RGB camera, according to the document.
There will be a new dashboard for Xbox Live and "next-gen service experiences" that are exclusive to the Xbox 720. Core titles like Halo, Fable, and Gears of War will be available for the console, as well as new Kinect-tailored games, linear TV service, HD and 3D movies available in the video marketplace, and XTV applications in a TV App Store for the console.
The Future is Fortaleza?
Intriguingly, the document also contains an Xbox 720 roadmap that is called "The Road to Fortaleza" (see slide below, click to enlarge). Apparently a code name, Fortaleza appears to be an augmented reality project that features Wi-Fi-enabled "Fortaleza Glasses" that are being planned for an Xbox 720 tie-in in the 2014 timeframe.
The following year, Fortaleza gets a whole lot more ambitious. The glasses will get cell radio and 4G network connectivity and it pretty much looks like Microsoft is planning to turn them into little mini-consoles that serve as mobile hubs for Xbox content. In other words, you won't even need the Xbox 720 console to access Xbox games and media, which will be delivered from the cloud "instantly and on any screen," as the copy reads.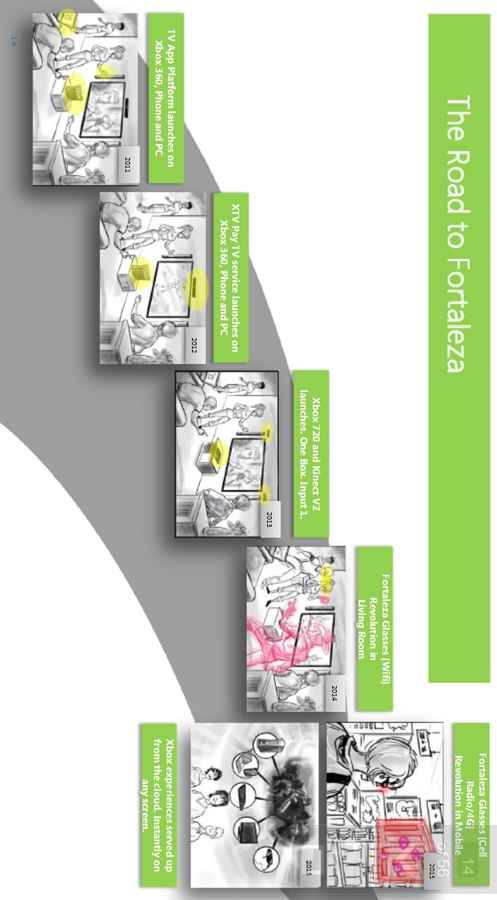 Rumors about Microsoft's next game console have been rampant in recent months. In early May, it was reported that Texas-based Flextronics, the manufacturer of the original Xbox, Xbox 360, and Zune music player was assembling next-gen Xboxes for Microsoft.
Reports in late 2011 and early this year suggested that Advanced Micro Devices and IBM will be the big winners among component suppliers when the next-gen Xbox starts rolling off the assembly line. That's not
SemiAccurate's Charlie Demerjian reported in January that 32-nanometer chips code named Oban that will power the successor to the Xbox 360 are currently in production. According to Demerjian, Oban combines a Power PC central processor from IBM with a Radeon HD 7000-series GPU from AMD. The chips are being manufactured by IBM and GlobalFoundries, AMD's spun-off manufacturing arm, the story goes.
The leaked document doesn't confirm any of that, but does present a sketch of the "Yukon" architecture that powers the Xbox 720 (click to enlarge):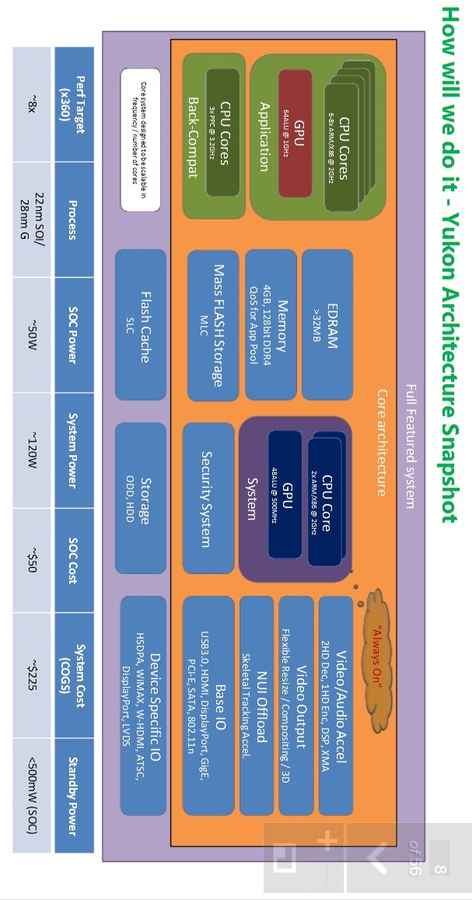 Rumors about the new console have been greeted with both excitement and dismay by gamers. In the first instance, there's the touch screen controller that's supposedly being readied for the new Xbox, in the second, there's the report that it will carry some form of DRM software that prevents the console from playing used games.
It's also been reported that Sony's next-generation PlayStation console is slated for a 2013 release and will likewise limit the playing of used games, which many gamers rely on to afford nearly new titles.
Microsoft may not be planning to release a next-gen Xbox for more than a year but it has rolled out some new features and deals for the Xbox 360.
At E3 earlier this month, Microsoft unveiled Xbox SmartGlass, which will tie together Xbox content with devices on iOS and Android, as well as other platforms. In May, the company began offering a $99 bundle of the current-gen console with its Kindle accessory to customers signing up for a two-year Xbox Live contract, later extending the deal offer to U.S.-based Best Buy and GameStop retail outlets. Copyright © 2010 Ziff Davis Publishing Holdings Inc.