The video game industry is one of the largest in the world. It regularly brings in more revenue than movies, music and other media combined. So, it is natural that companies want in on the action. Which is why it isn't at all surprising that Huawei is looking at making a splash in the gaming market. According to a tipster called @Tomato Prince on Weibo, Huawei is looking at releasing a full-fledged gaming console. It will allegedly go up against the likes of the PS5 and the Xbox Series X. The leakster also suggested that Huawei is also looking at releasing a gaming laptop.

The company is seriously considering taking on the likes of Sony and Microsoft with its console. There is no official word on what the specs will be or if it even exists. But, it is interesting that Huawei is looking at developing a console that is at par with market leaders like the PS5 and Xbox Series X. According to a report on Gizmochina, Huawei did jump into the gaming laptop market with the Honor V700 gaming laptop. But the sub-brand has since been sold, leaving Huawei without a gaming laptop of its own. This move seems to mark Huawei's first steps into the gaming world. And, it will be interesting to see how the Chinese mobile giant fares.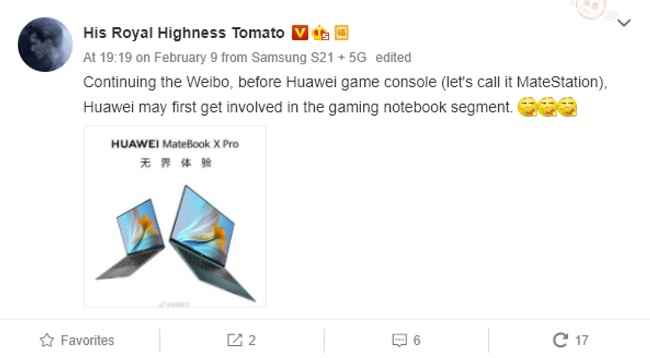 Again, do take this news with a grain of salt as there has been no official word on either the gaming console or the laptop. If you are interested in next-gen gaming, check out our guide on the first 5 things you should do when you first turn on your PS5. Also, we've got a sweet list of all the games you should check out if you've bought yourself a brand-new PS5.