PUBG Mobile developers have announced an in-game event called the Fancy October Giveaway. It is a new India exclusive offer where players can participate in some in-game challenges and get a chance to win a new iPhone 11. One can win some lucky draw coupons by playing the game and as a part of the event, one can also win an iPhone 11 Pro Max when they participate in a lucky draw. Alongside the new Apple iPhone, gamers can win earphones by boAt, some in-game outfits and skins.
Additionally, PUBG Mobile previously announced a partnership with AMC's The Walking Dead TV show and now, some new features under the partnership have been unveiled. Starting October 1 and early into 2020, players of the battle royale title will be able to collect some limited in-game items such as weapons, character skins, weapons and a new vehicle that has appeared on the TV show.
PUBG Mobile: How to participate in iPhone 11 Pro Max event
To participate in the event and get a chance to win the iPhone 11 Pro Max, one needs to be logged into the game. They can then head over to the Events section, which is the crate icon on the lower right corner. Tap on the Time Limited section on the top and select the 'Dusshera Lucky Draw' option. Players will be redirected to a webpage where they can participate in the lucky draw. However, in order to participate in the draw, one needs to complete some missions.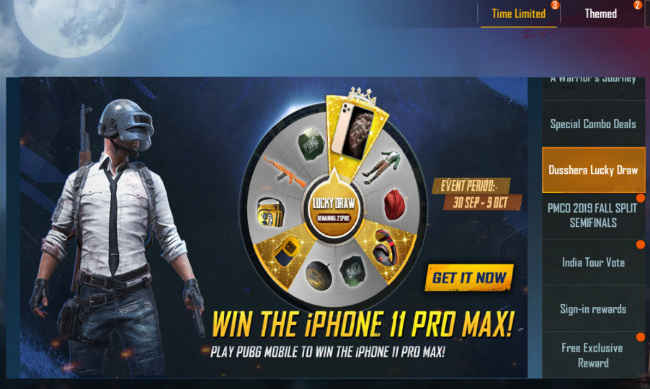 PUBG Mobile and The Walking Dead partnership
As mentioned above, PUBG Mobile has made some new announcements under its partnership with The Walking Dead TV show. Players will get a chance to "traverse the battlefield as familiar heroes or an iconic villain." We assume that it means players will be able to select a character from The Walking Dead as their in-game avatar. There are also some limited in-game items such as weapons, character skins, and a vehicle that will also be available. There's also a new Walking Dead Board Game available within PUBG Mobile, which can be accessed from the bottom right corner on the main menu.
There's also event missions to complete items to collect for advancing and earning points. Players can exchange the points they earn for rewards, one of the notable ones being a permanent Daryl Dixon's Motorcycle. More events and characters added to the game soon.