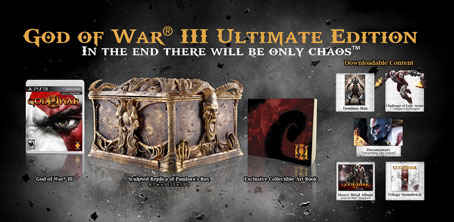 God of War III Ultimate Edition packaging and content
Sony Computer Entertainment has announced the release date for God of War III as March 16th this year. This was posted on the PlayStation (US) blog, so this only confirms the North American release date. According to a related post made on the PlayStation (UK) blog, the PAL release date for God of War III remains unconfirmed. However, the post did mention that they are aiming to release the game simultaneously in North America and PAL territories.
Along with the release date, SCE has also released the final cover art for the game, alongside the final packaging for the Ultimate Edition.