Garena Free Fire Max is the high-resolution alternative to Garena Free Fire. After a few upsets for the Indian gamer community due to bans on the original game and some other apps, the Max version is available on the Play Store. The adequate replacement for the banned game brought relief to the community.
Garena Free Fire MAX is offering some exclusive bundles for free, they announced in a series of tweets from their North America handles. Some of these features are exclusive for today, while some last till the 16th of June. They also unveiled Bomb Squad and their new map El Pastelo through the same handle.
A new set of redeem codes have also been released for June 13. Garena Free Fire Max uses the same redemption website as the original game. Players will have to visit https://reward.ff.garena.com/en to claim the exclusive rewards.
Redemption Codes for 13th June 2022
FBNO IRU9 8YT6
FGFY VGHD BE54
FI6G D765 45Q1
FRTF 234I R9TY
FK4T 87G6 VT5R
FON9 B8V7 C6DT
FR7E VR5B 6YNM
FK8I V8C7 X65S
F4DF ECVR 4B5U
FXDS TSWY QTJ9
BKSK ECCM JZEB
L8LN F5WK 2YPN
TPNA MS84 ZE8E
26JT 3G6R QVAV
A46N U6UF Q2JP
6LU6 9JJZ J7S8
FAG4 LHKD 92GZ
RHUV SWWV N9G4
FBJ9 MTXB 9XAP
5R8S AGS5 MCK5
2K5A WHD3 FKWB
XKVJ M65A NPUQ
AMCT 7DU2 K2U2
Claim free gifts: Step-by-step guide
1. Visit the official Free Fire redemption website https://reward.ff.garena.com/en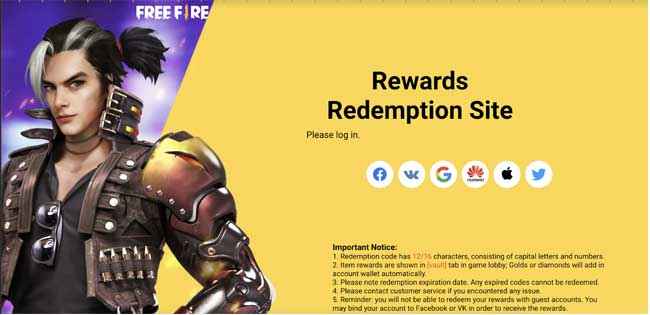 2. Log in to your Free Fire account using Facebook, Google, Twitter, Apple ID, Huawei ID, or VK
3. Enter any of the above-mentioned redemption codes and press confirm
4. On completion of the above 3 steps, the rewards will be highlighted in your mail section within 24 hours