Phenom II X6 1090T gaming rigs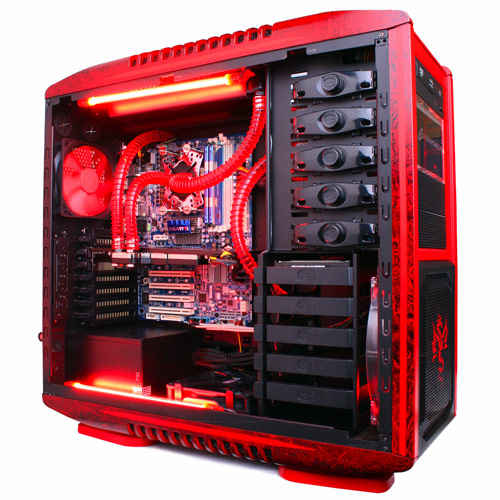 Three major gaming rig manufacturers have revealed new machines, just a day after the release of the new "Elite Visual Computing" platform from AMD, which combines the Phenom II X6 1090T processor with a 890FX motherboard and ATI Radeon HD 5000 series graphics.
Maingear, iBuyPower and CyberPower have all designed gaming machines based on the new platform, and keeping in tune with AMD's price vs performance ethic, have attached inexpensive price tags to them, all of which start at under $1000. Various customizable options are available from all three manufacturers. To give you an idea however, check out the specs of the $1299 Limited Edition Vybe from Maingear, which features an 890GX motherboard: ATI Radeon HD 5830, AMD Phenom II X6 1090T, 6GB DDR3 RAM, 640GB WD SATA 6G HDD, DVD burner, and more.
Chopper 2's iPhone-as-iPad-controller design
Well the idea of using an iPhone as a remote control or a synching device for your iPad is not new, and numerous applications have been shown around the place doing this. However, Chopper 2 has decided to go one step ahead, and lets your iPod Touch or iPhone control your iPad game via Bluetooth. They also promise a composite adapter with the rig, which will allow you to connect your iPad to an HDTV (maximum size 42-inches), and then continue to use your lesser devices as the controllers. Check out the video of it in action below:
The Sims 3 coming to consoles soon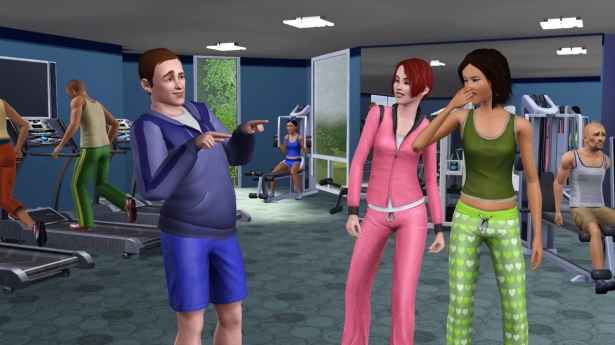 The Sims is unarguably the best-selling PC game franchise in history, and has millions of rabid fans all across the world. What's truly noteworthy about its success is that it has achieved this level of mass hysteria despite being limited to just one platform, the PC.
Now however, you can expect The Sims to invade a console near you, and give you a taste of 'the simulated life' on your Nintendo Wii or DS, Xbox 360 or PS3. As you might have noticed, the PSP is missing from the list, and that's probably due to the consoles low sales. To continue, EA insists that the game will work equally well across all consoles: "tailored each platform [version] of The Sims 3 with exclusive features to allow for even more control, creativity, and connectivity."
While the exact release date of The Sims 3 for these platforms has not yet been revealed, it is expected to hit stores this Fall, and we have no doubt it will soon become the best-selling cross-platform game franchise ever.
Read on for images of Ben Heck's new PS3 laptop, plus MSI new gaming laptop....
Ben Heckendorn's new PS3 laptop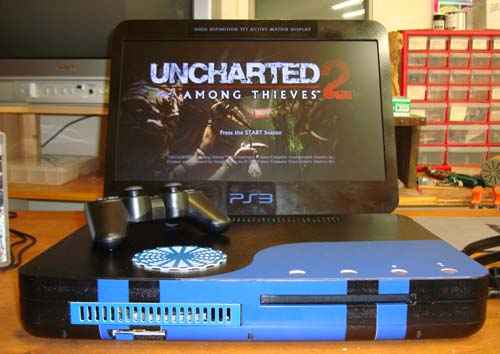 This is not Ben Heckendorn's first PS3 laptop, nor will it be his last. But it certainly looks good. Offering a 17-inch widescreen that plays 720p video, the laptop has a the PS3 Slim squeezed inside, along with integrated stereo speakers, headphone jack, and a mighty useful video out jack, in case you want to connect the rig up to a bigger screen. Ben Heck also provides "more air holes", for cooling purposes, though he adds that it doesn't really need them. Enjoy the pictures.
MSI GE600 gaming laptop

MSI introduces a brand new gaming laptop, which retails at an affordable starting price of $900 though it's stuffed full of great components. It might not be MSI's most eye-wrenchingly powerful gaming laptop (check out MSI's gaming family here), but it certainly looks capable. But what is certainly annoying, is that it doesn't specify which Intel Core i5 it uses, as if there was only one! The specifications include:
| | |
| --- | --- |
| CPU | Intel Core i5 Processor |
| OS | Genuine Windows 7 Home Premium |
| Chipset | Intel HM55 |
| Memory | DDR3 1066, Max: 4GB |
| LCD Size | 16" TFT-LCD Display |
| Graphics | ATI Radeon™ HD 5730 |
| Graphics VRAM | DDR3 1GB |
| HDD (GB) | 2.5" 250GB/320GB/500GB SATA |
| Optical Drive | Super-Multi / Blu-Ray |
| Audio | 2 HD Speakers 1 Subwoofer |
| Webcam | HD Webcam |
| Card Reader | SD/MMC/MS/XD |
| LAN | 10/100/1000 |
| Wireless LAN | 802.11b/g/n |
| Bluetooth | optional |
| D-Sub (VGA) | 1 |
| HDMI | 1 |
| USB 2.0 port | 3 |
| eSATA | N/A |
| eSATA/USB Combo | 1 |
| Mic-in/Headphone-out | 1 |
| Express Card | N/A |
| Modem port | 1 |
| Line-in | N/A |
| Keyboard | 103 keys |
| AC Adapter | 90W |
| Battery | 6/9 cells |
| Dimension | 374(L) X 246(D) X 26.8~35(H)mm |
| Weight (KG) | 2.7 |