After a lot of rumours and speculation, the word is finally out. Fortnite for Android will be exclusive to Samsung devices for just three days. Instead of using the Google Play Store to distribute the game to the masses, Epic has taken a different route. The game will be available on Epic's own website as a downloadable APK. The game is launching first as a beta. On Samsung smartphones, Fortnite will be available through the Galaxy Apps Store for download. If you own a Samsung device, then Fortnite will be compatible with the following phones - Galaxy Note 9, Galaxy Note 8, Galaxy S9, S9+, S8, S8+, S7, S7 Edge along with the Galaxy Tab S4 and Tab S3.
The rest of the world will be able to play Fortnite on their devices starting August 12. You will need a high-end Android device to run the game. Epic says your smartphone will need to be on Android 5.0 Lollipop or higher and have a minimum of 3GB of RAM. On the GPU front, the smartphone will need to have a minimum of Adreno 530 or higher, Mali-G71 MP20, and Mali-G72 MP12 or higher.
Here is a look at a list of compatible Android devices on which you will be able to Fortnite starting August 12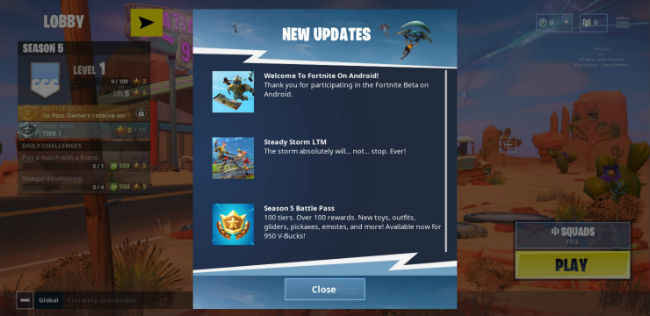 Google: Pixel / Pixel XL, Pixel 2 / Pixel 2 XL
Asus: ROG Phone, Zenfone 4 Pro, 5Z, V
Essential: PH-1
Huawei: Honor 10, Honor Play, Mate 10 / Pro, Mate RS, Nova 3, P20 / Pro, V10
LG: G5, G6, G7 ThinQ, V20, V30 / V30+
Nokia 8
OnePlus: 5 / 5T, 6
Razer: Phone
Xiaomi: Blackshark, Mi 5 / 5S / 5S Plus, 6 / 6 Plus, Mi 8 / 8 Explorer / 8SE, Mi Mix, Mi Mix 2, Mi Mix 2S, Mi Note 2
ZTE: Axon 7 / 7s, Axon M, Nubia / Z17 / Z17s, Nubia Z11
How to download Fortnite on your Android Phone
As we've mentioned above, Fortnite for Android will not be available through the Google Play Store. Samsung smartphone users can log onto the Galaxy App Store and download the game on their compatible device. Other Android users can sign up for the beta here and Epic says that those who register will receive details on how to install the game on their smartphone. If you are new to Fortnite and have never played the game, then you may need to wait for an invite before you can partake in the Battle Royale madness.
Cross-play with iOS, Windows, Xbox One, PS4 and Nintendo Switch
YES! Fortnite for Android will support cross-play across the platforms on which the game is available. This will put smartphone users at a significant disadvantage when compared to other platforms. Those playing on the PC will have the unfair advantage of the precision offered by the keyboard and mouse followed by console owners that have ergonomic controls in the form of a gamepad. The touchscreen is by far the worst way to play a game that offers cross-play especially when competing with PC gamers. Its like bringing a wooden spear to a nuclear fight. We highly recommend investing in a controller for your smartphone to even a few odds.
There you have it. Hope you are well prepared to walk into the world of Fortnite and enjoy the Epic Battle Royale showdown you've been looking forward to on your Android smartphone.