Publishers Namco Bandai have announced the launch of their flagship Dark Souls 2 for March 11 2014 in North America, March 14 in Europe and March 13 in Japan. The game will be available for the PS3 and Xbox 360 platforms, while again PC gamers will have to wait until "shortly thereafter," according to Namco. A spokesperson told Joystiq, the extra time will allow the game to "fully capture all the necessary specs" for the PC audience.
Namco has also unveiled the vicious sequel's Collector Edition. Offered in limited quantity depending upon the stock, both the Collector's Edition and Black Armor Edition of Dark Souls II contain items sure to elate Dark Soul fanatics, a game considered to be one of the most challenging experiences in video game history.
"Dark Souls II possesses one of the most enthusiastic and hardcore fan bases in today's videogame cultural sphere," says Chris Gilbert, Senior Vice President of Sales and Marketing at Namco Bandai America. "We've paid extra close attention when creating the Collector's Edition and Black Armor Edition to ensure that each package offers compelling contents to both our most passionate hardcore fans and for gamers that are ready to take on the challenges in Dark Souls II for the first time."
The Collectors Edition will feature a premium quality Warrior Knight figurine measuring 12 inches. Along with that, the CE also includes a soundtrack, an art book and a cloth map.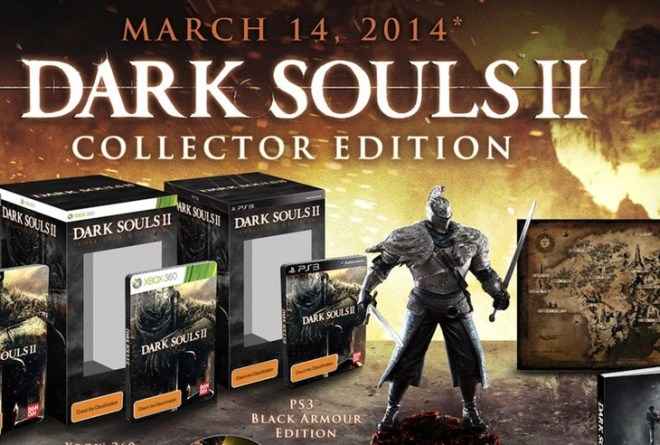 Gamers who do not order the Collector Edition and opt for the standard edition also won't be disappointed, as Namco has made it clear that those who pre-order the standard version will automatically be entitled to receive the Dark Souls II Black Armor Edition when the game launches. This edition comes bundled with a metal case that contains both the game disc and the official soundtrack.
As you might be all geared up to get your hands dirty on new consoles in November, however Namaco Bandai are making a solid case for you not to part with your current systems at least until 2014.
Source:Joystiq