Earlier today at Computex 2014, AMD spilled the beans on new innovations and offerings surrounding its Radeon graphics product line, showcasing new OEM branded products, hardware level improvements, and an argument towards why they're the definitive graphics solutions provider for all kinds of mobile gaming pursuits.
Ravi Gananathan, Director, Product Management, AMD Radeon Mobile Graphics, gave us a quick run down on how AMD plans to offer an end-to-end mobile gaming solution for all sorts of gaming audiences
Continuing the conversation that was started late last year, Mr. Gananathan noted that "powerful and innovative solutions are needed for notebook design choices" and how AMD Radeon Graphics aims to provide the definitive solution. According to Gananathan, AMD Radeon is trying to achieve that with a four-pronged approach: by offering a powerful graphics architecture, intelligent power optimizations, immersive features and gaming technology, and a formidable OpenCL compute engine.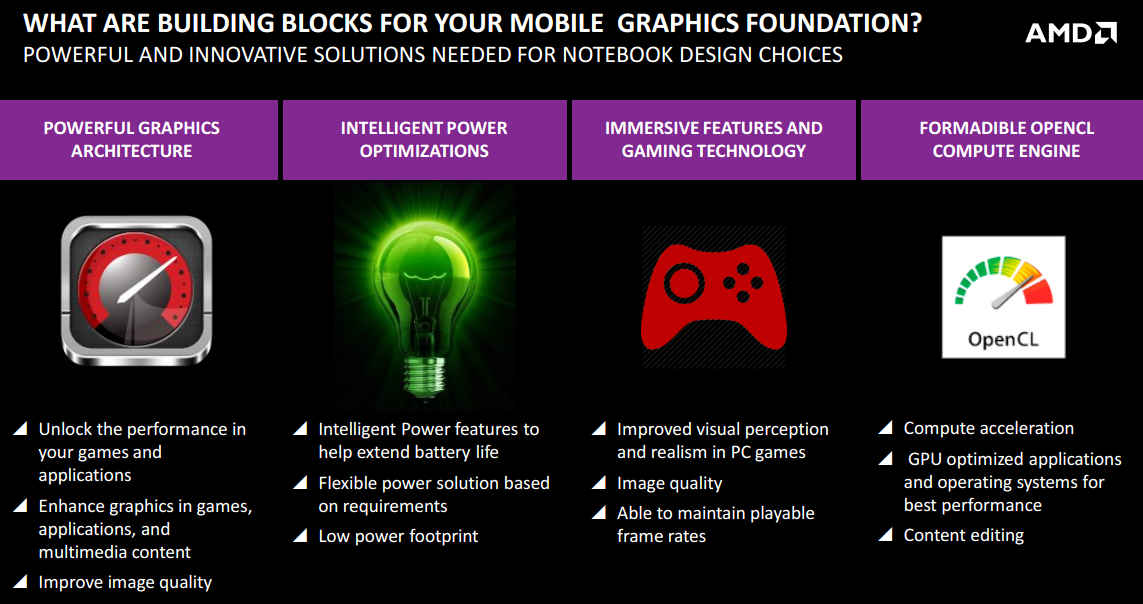 Apart from this, AMD also showcased all the tech innovations that are enabled in its latest Radeon graphics solutions, uber coolness that is now built into its mobile GPU offerings to be deployed on gaming laptops as well. Stuff like AMD's GCN (Graphics Core Next) architecture, TrueAudio technology, and Mantle API, among others. All this promises to give you a better than ever gaming performance on mobile – laptops, hybrids, 2-in-1s, and mobile gaming behemoths.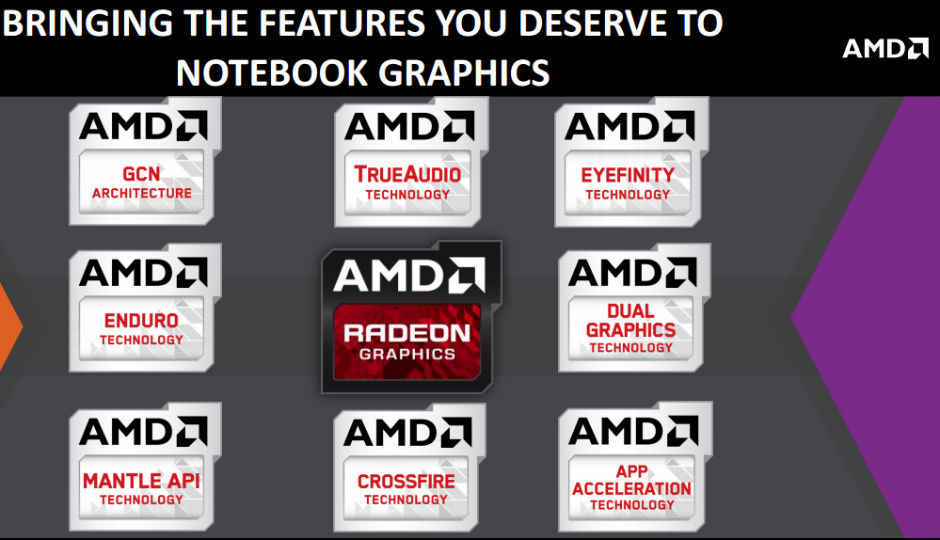 During the Radeon graphics update, AMD also spoke about game developers they're working with closely to bring next-gen games to life on AMD Radeon graphics on gaming laptops. The list includes all the heavyweights of the gaming industry, and then some. Similarly, AMD also mentioned OEMs it's collaborating with to offer Radeon graphics solutions in their products. This list includes OEMs like HP, Lenovo, Acer, Dell, Toshiba, ASUS, MSI, Samsung, Fujitsu, and others. Most of these vendors will support Radeon graphics throughout any one of their consumer, commercial or enthusiast laptop offerings throughout this year.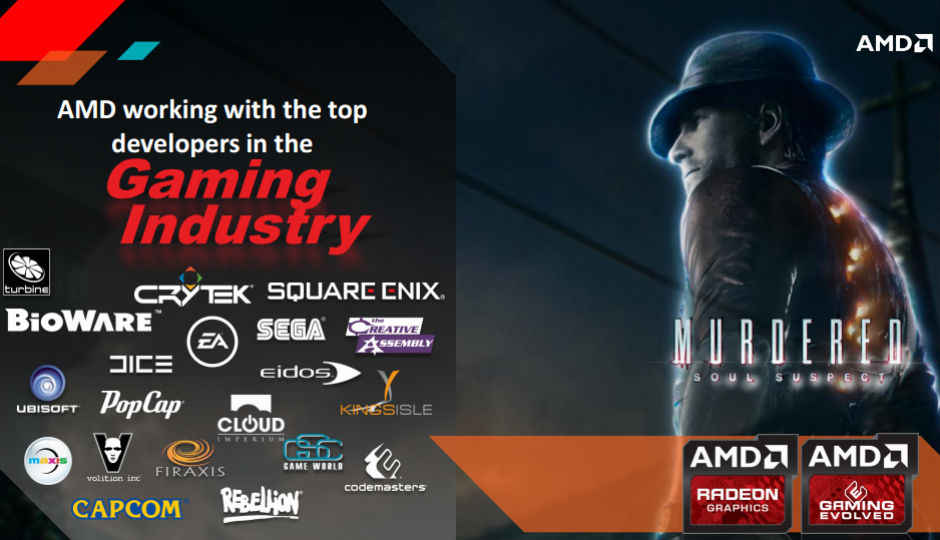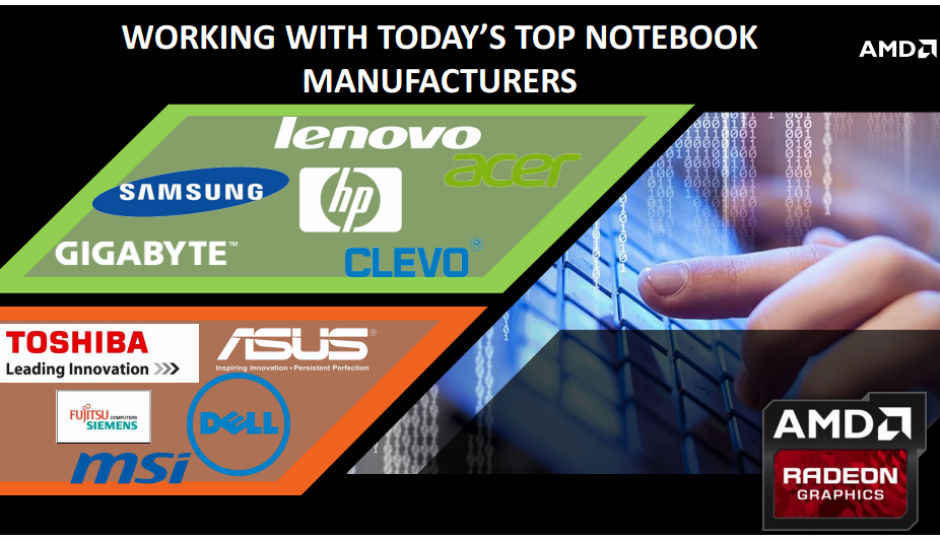 Look forward to the following machines, if you're in laptop gaming, as they'll all feature AMD Radeon graphics solutions in them: MSI GX70 and Alienware 17/18 will both feature AMD Radeon R9 M290X – their top of the line mobile GPU. The Toshiba P50T (the 4K gaming laptop) will sport a Radeon R9 M265X, while the Lenovo Y40 will showcase Radeon R7 and R5 GPU chips. This is for all your full-fledged gaming laptop needs, though.
If you're more of a mainstream laptop fan, AMD has Radeon GPU offerings for you as well: the Lenovo G510 and Acer Aspire E15 will both feature AMD's Radeon R7 M265 and Radeon R7 M260 GPU chips, respectively. The Lenovo IdeaPad S415 and Acer Aspire E14 will both sport the Radeon R5 M230 graphics chips.
AMD also announced the expansion of its Never Settle Forever game rewards program for gaming laptops. It allows gaming laptop owners (with a built-in Radeon graphics chipset) to claim one, two or three latest AAA gaming titles, depending on their rewards bracket. According to AMD, this Never Settle Forever series has been hugely popular with the gaming crowd.
AMD also revealed their roadmap for Radeon Graphics for 2014. Take a look.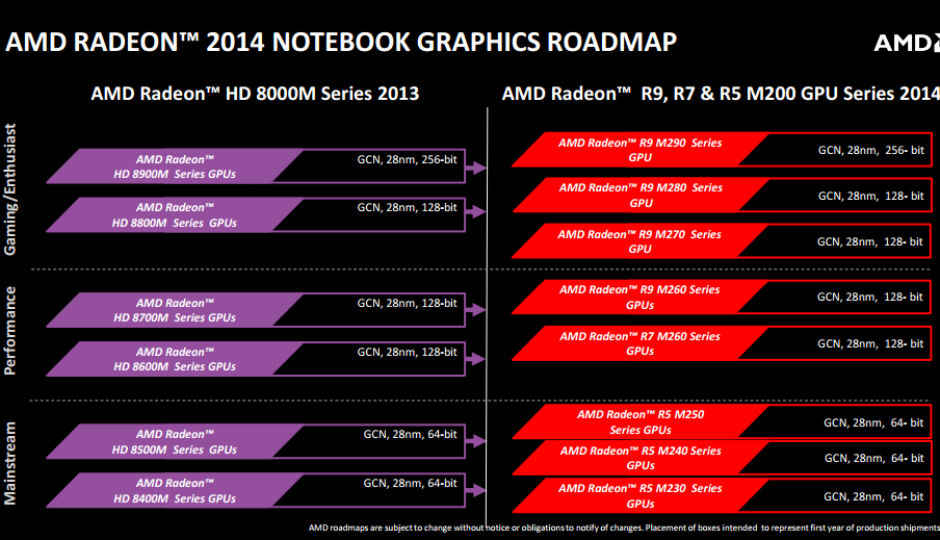 Meanwhile, we'll try to bring you hands on coverage of most of these gaming laptops showcased at AMD's Radeon Graphics update later in the day, so stay tuned.