Ubisoft's highly anticipated flagship title Assassins Creed: Black Flag will see a midnight launch at 'Games The Shop' on 28th October. e-xpress Interactive Software Pvt.Ltd in association with Games The Shop, will be organizing the midnight launch of the action adventure stealth title.
The launch will take place on 28th October from 11 p.m onwards. Fans can grab their copies at Games The Shop, Oberoi Mall (Mumbai).
Fans present at the launch stand a chance of winning 'Assassins Creed: Black Flag' exclusive accessories from AC4 diaries, key Chains, posters, stickers, tees, bags and playing cards. To top it up, one lucky fan will get an exclusive Assassins Creed: Black Flag poster signed by the crew of the development team. All fans buying the game at the mid-night launch are entitled to an official Steel book case of Assassins Creed: Black Flag.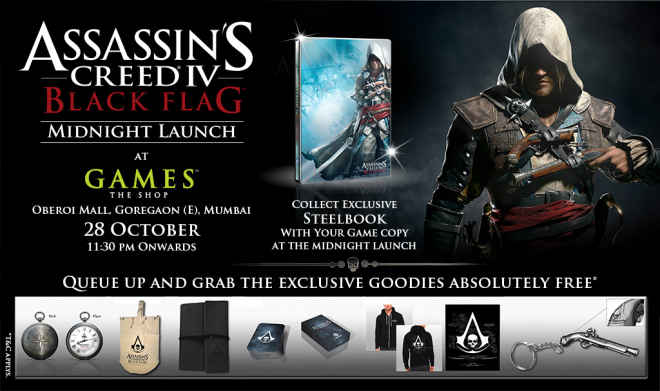 Assassins Creed IV: Black Flag will be available across India from 29th October 2013 for the PS3 and Xbox 360 at Rs.2,999.
Venue Address
Games The Shop Oberoi Mall, (Mumbai): Oberoi Mall, Shop No F-04,1st Floor, Off Western Express Highway, East, Mumbai -400063, India. Phone:022 - 4266 1979