An article describing the unveiling of Transcend's DMP10 HD media player with Full HD 1080p video, HDMI support, DTS, Dolby digital audio and more.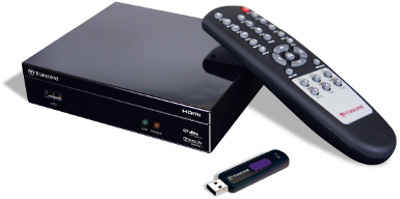 Transcend Information, Inc. (Transcend), a global leader in storage and multimedia products, has announced the unveiling of its first HD Media Player, the DMP10. Equipped with full support for popular media formats and high-resolution digital video/audio output, the DMP10 offers users a convenient way to play their digital content in Full HD 1080p high resolution video on any HDTV.
As more and more people delve into the habit of mass storing their favorite music & video album collections on CDs and DVDs, it becomes imperative that they depend on a desktop or laptop computer to play these files. Hence their video viewing & music listening experience is confined to the limits of the small desktop screen, weak computer speakers & massive storage constraints. However, the advent of Transcend's HD Media Player promises to change the scenario by allowing users to simply connect a USB mass storage device to playback digital media content within the comfort of their living room or bedroom. Also, they get to enjoy a new lease of life, without having to struggle with non-feasible solutions such as burning the files onto DVDs or connecting their computer to the TV.
The new DMP10 HD Media Player is said to be optimized for unsurpassed high-definition (HD) video and audio quality through its HDMI 1.3 and S/PDIF digital connection interfaces. Fully loaded with DTS and Dolby Digital audio decoding, complemented with Full HD 1920x1080 H.264/AVC & VC-1 video decoding, the DMP10 is expected to deliver crystal clear audio with amazing picture quality and unwavering 24p video playback without stuttering.
The DMP10 promises easy plug-and-play file browsing and playback, equipped with two high-speed USB ports well crafted to connect external hard drives or USB flash drives loaded with HD videos, digital music and photos. The HD media player reportedly supports the most popular HD file formats, including MKV, AVI, WMV, RMVB and M2TS, and its apparently colorful user-friendly menu interface and wireless remote control are expected to make tracking and playing media files quick and simple.
Showcasing an elegant gloss-black design that promises to suit the ambience of any room, the DMP10 HD Media Player appeals home theater enthusiasts to enjoy digital movies, music and photos within the comforts of their home, on their big TV screen & home entertainment audio system.
The DMP10 is reportedly available in the Indian market at a very affordable price of Rs. 7,000 and aptly complemented with a 2 year warranty.
Specifications:
HD file formats supported: MKV, AVI, WMV, RMVB and M2TS
Connection interfaces: HDMI 1.3 and S/PDIF digital
Supported audio decoding: DTS & Dolby Digital
Supported video decoding: Full HD 1920x1080 H.264/AVC and VC-1
2-high speed USB ports
Price: Rs. 7,000
Warranty: 2 years