Tata Sky claims it offers the highest number of HD channels in the country.
Tata Sky has increased its bouquet of channels with 9 SD channels and 6 HD channels for its subscribers. Tata Sky now has taken the total count of HD channels to 24.
The channels currently added are: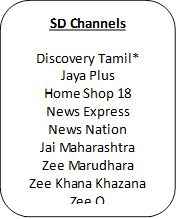 Tata Sky has of late focussed on the HD segment. It recently slashed price of its HD set top box from Rs. 3,100 to Rs. 2,000 – bringing the range closer to the standard definition set top box.
"Tata Sky has been a strong believer in the potential of the HD segment in India and has played a pioneering role in growing it. Equating the price of the HD box to an SD box will further accelerate the adoption of HD service," says Tata Sky, Chief Commercial Officer Vikram Mehra had said in a statement.
Tata Sky recently introduced a new app called 'Everywhere TV' that allows users to access TV channels and on-demand movies on the go.