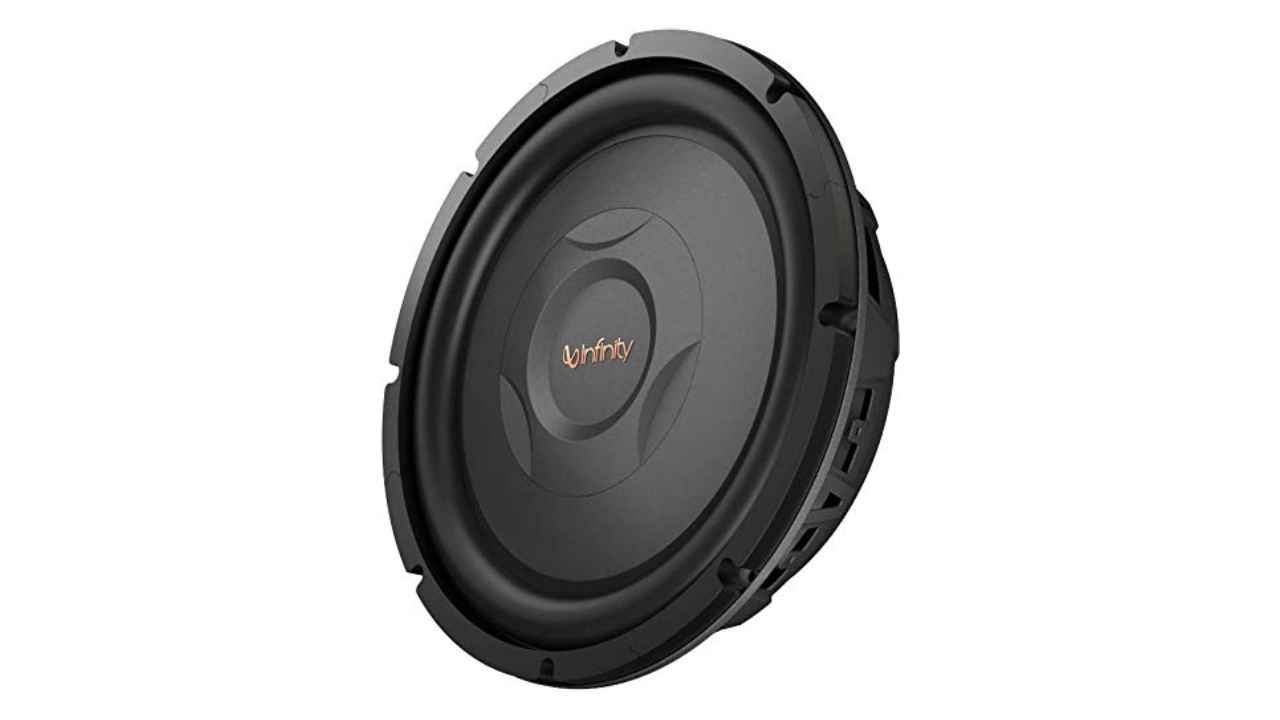 Subwoofers are electronic devices used to produce bass or sub-bass. They can be installed both at homes or in cars. The main characteristic of a good subwoofer is the amplification of sound and addition of bass to it without adversely affecting the sound quality and creating distortion. A few other factors that one must consider while selecting a subwoofer are its weight, sound quality, durability, the composition of the coil and presence of a magnet. Price is another factor, but it may differ. Here is a list of some reliable subwoofers that you can consider purchasing if you are searching for one.
Infinity 12-inch Shallow-Mount/Slim Car Subwoofer
The Infinity subwoofer offers a compact design and powerful audio features so that you don't compromise on the sound quality. The subwoofers provide flexibility and stability to enjoy rich sounds. This equipment passes through rigorous testing where they are frozen, shook and baked to make sure you don't regret investing. The box comes with a 1200s subwoofer, an owner's manual and a technical datasheet. When you compare them with other subwoofers, which makes them stand out is Harman's proprietary technology to switch between 2 or 4 ohms easily.
Sony XS-NW12002 12-inch Woofer
Feel every kick, drop and thump with this Sony subwoofer. With its dimpled pentagon design, it reduces any noise distortions to let you enjoy the music. It is easy to maintain, sturdy and allows for long-lasting usage. In terms of specification, the speaker has a 30cm woofer size with a power rating of 420-Watt. Enjoy your music while going out for a drive with the amazing capabilities of these subwoofers. Whatever your choice of songs, these subwoofers do justice to each of them.
YOKOMA 12" Subwoofer
This 12'' subwoofer produces low-frequency sound till 35Hz and provides the option of getting it with a high quality cylindrical wooden drum. It is compatible with most car amplifiers and selective home amplifiers. As compared to other subwoofers, it is by far the most powerful and affordable one in this range. It weighs around 6 kgs and produces smooth sound ranging between 35Hz to 500Hz. Other features include a passive bass tube and 2 Inch high temperature 4 layered voice coil.
FREDO 8 Inch SubWoofer
This subwoofer by Fredo is compatible with an array of car amplifiers. It can support circuits between 4 to 8 Ohm. It is perfect for Car and Home usage. To bring in that additional high-quality effect, a tuned enclosure can be bought separately. It comes with a heavy damage proof packing and is loaded with a 4 Ohms voice coil, making it suitable for circuits between 4 to 8 Ohms. Additional features include a non-pressed paper cone to push more air resulting in louder sounds and sensitivity of 90Db.
Infinity Kappa 800W 8inch
If you are looking for the perfect audio experience, get your hands on the Infinity subwoofer. Get accuracy and detail, which is bound to blow you the way. The Subwoofers feature Harman exclusive smart selector, which allows you to choose between 2 to 4 Ohm impedance. The aero-cooling design keeps it cool while optimising for handling and ensuring long term reliability. The fibre-glass cones have been engineered to do away with unwanted interruptions and minimise any distortions.
Nktronics 10" inch 8 ohms
Nktronics 10-inch is a powerful 200-Watt subwoofer. It comes with a hard press cone offering high-quality sound performance. The subwoofer offers superb sound quality and produces low-frequency sound. You can use it as per your requirements for home as well as the car. The general specifications tell us that it's a round-shaped subwoofer with a metal grill and matte finish. The rated power handling is 100 watt with a nominal impedance of 4 Ohm. The product is durable and easy to use.