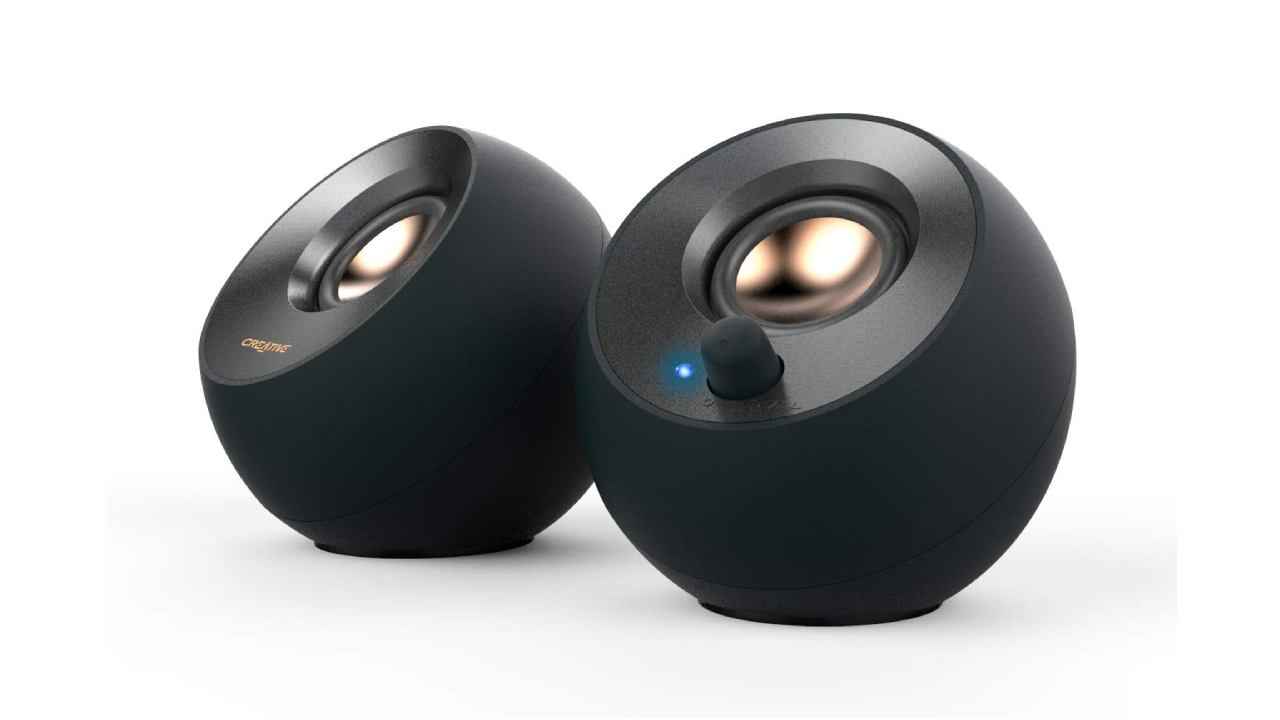 If you're someone who streams content regularly on a laptop, then you know that the device's built-in speakers rarely offer a sound output that does justice to what you're watching. With subtle shifts in the soundtracks indicating events to come, musical notes cue emotions, and whispered dialogues, it's essential to get yourself a small speaker set for the laptop give that detail. To help you find the perfect speakers, we've curated a list of the top four products that you can get on Amazon. Note that these have been curated based on their listed features.
Creative Pebble V2
If you are looking for a compact pair of speakers that delivers a powerful sound output for your laptop, then the Creative Pebble V2 is a good option to consider. Both the speakers use 2-inch far-field drivers and passive radiators to deliver a balanced sound output with punchy bass. In terms of output, it delivers an RMS output of 8W and a peak output of 16W. Furthermore, it comes with a USB 3.0 cable, making it compatible with most modern-day laptops as well. You can switch between USB-A to USB-C devices using the connector, enabling you to enjoy a smooth experience. Finally, it comes with a stylish exterior design.
iBall Decor 9
If you are looking for a budget-friendly pair of speakers to pair it with your laptop, then the iBall Decor 9 should do you justice. It has a compact design, which makes it easily portable. It delivers a clear sound with an RMS output of 5W, which should be good enough to enjoy a personalised listening experience. It sports an inline volume controller, which makes it easy for you to control the volume of the output. You can power the speakers via USB cable, which should enable you to enjoy good music as long as your laptop has power. Finally, the stylish design of the speakers makes them aesthetically pleasing to the eyes.
Philips MMS1015/94
If you are looking for a pair of compact speakers with multiple connectivity options, then this model from Philips should do the job for you. It supports Bluetooth 5.0, AUX and USB, enabling you to listen to music or watch videos both wirelessly or in a wired setup. Furthermore, it supports FM as well, enabling you to listen to music from your favourite radio channels. In terms of sound output, it delivers a 15W output, which should be good enough to fill a small room. Finally, one of the speakers has physical buttons on it, which you can use to control volume, power and FM.
HP DHS-2101
The HP DHS-2101 delivers a sound output of 2W RMS and is said to deliver a low and deep bass, according to the brand. The frequency response that you can expect is between 180–20,000Hz. The speakers have a 3.5mm audio jack for connectivity and can be charged by a USB cable connected to your laptop. The brand claims that with these speakers at your disposal, you should be able to fill your room with high-quality stereo sound. These speakers are also easily portable, which means you can take them to a friend's home for a fun-filled movie marathon!