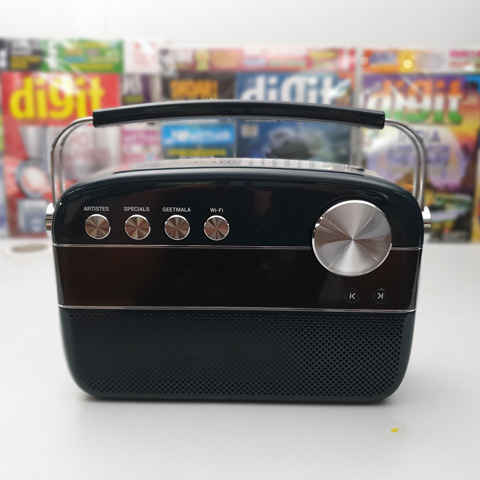 HIGHLIGHTS
Saregama has announced the Carvaan 2.0 which comes with integrated Wi-Fi support.

The device already has 5,000 pre-loaded retro songs like its predecessor and can access 15,000 additional songs using via audio stations using Wi-Fi.

Managing Director of Saregama India, Mr Vikram Mehta said, "Carvaan 2.0 goes from being just a product to a platform".
The Carvaan 2.0 was unveiled on June 18 in Mumbai with the newest addition being Wi-Fi integration that allows users to access podcasts and audio stations, alongside the 5,000 pre-loaded evergreen retro songs. The looks are similar to its predecessor providing the target audience (ages 35 and above) with simplicity, nostalgia and a lean-back listening experience. Along with the Artists, Specials and Geetmala tactile buttons, a fourth button – 'Wi-Fi' has been added to the Carvaan 2.0. The device is priced at Rs 7,990 and is available in two colour variants – Classic Black and Emerald Green. The Gold variant with Harman Kardon speakers has also been launched for Rs 15,990 in Champagne Gold and Rose Gold variants.
The Carvaan 2.0 comes with a micro-USB charger, an adapter, remote control and an external antenna
The speaker output in the classic variant of the Carvaan 2.0 is 2*5W and allow an audio playback time of up to 5 hours. The battery can be fully charged in about 2-3 hours with a standard micro-USB charger, however, the Gold variant has its own dedicated charger. Inside the box, you will find the Carvaan 2.0, an antenna, a micro-USB cord, a charger adapter and a remote control. The original Carvaan did not provide a remote control in the box itself unlike the Carvaan 2.0. Wi-Fi support is integrated into the device and users will need to download the Saregama Carvaan app from the Play Store or App Store and connect to the Wi-Fi once, after which they will not need to reconnect every time the device turns on. Users can also use the app to search for particular podcasts and songs and play them on the Carvaan 2.0. The device also has features such as AUX or USB in, Bluetooth, FM/AM support along with external antenna suport. The 150+ audio stations and podcasts which can be accessed through Wi-Fi are pre-selected by Saregama and refreshes every day with new content.
According to the company, new content will be added regularly which can be accessed through Wi-Fi. The content is not just limited to music and songs, but also has podcasts like Masaalo ki kahaani, Bhagwad Geeta ka Saar, Sampoorna Sundarkand, Nani Maa ki Nushke, Wordgram, Open Mike poetry and many more. Like seen in its predecessor, famous evergreen artists like Lata Mangeshkar, Kishore Kumar, Asha Bhosale, Mohd. Rafi, R.D. Burman and more are featured in the pre-loaded 5,000 retro songs. The products – Saregama Carvaan 2.0 and the Gold variant are available on saregama.com, Amazon, and other online websites. Additionally, they will also reportedly be available in around 23,000 retail outlets around India like Chroma, Vijay Sales and more.